Price search results for Airblaster Yeti Beast Bib Pant – Men's There's nowhere you'd rather be than the skin track--except for maybe cruising back down. While you're meticulously inching up the steep slope, give yourself some protection from the elements with the Airblaster Men's Yeti Beast Bib Pants. These pants have an EcoVortex membrane to ensure no moisture melts through the fabric, while allowing vapor to escape as you work up a sweat. As you move, the stretch fabric ensures your mobility remains uninhibited. The articulated seat and knees help you move naturally, and have been lined with Waffle Wick to give you a bit of warmth while whisking moisture away from you.
Related Products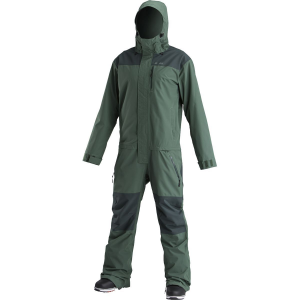 Airblaster Yeti Beast Suit - Men's
As you eye up the cliff drop just yards below you, contemplating whether or not you should send it, remember that you're wearing the Airblaster Men's Yeti Beast Suit and let that fact make the decision... Airblaster Beast 3L Jacket - Men's
When you load up the car to drive to the mountains, your board knows you'll be seeking out a deep pow stash. Make yourself as ready as your board with the Airblaster Men's Beast 3L Jacket. This jacket... Airblaster Cranky Chino Pant - Men's
Whether your friends are waiting for you at the park, or seeking out powder on their own with the assumption that you'll run into each other eventually, wear the Airblaster Men's Cranky Chino Pants to...
---