Price search results for Airblaster Insulated Freedom Suit – Men's The Airblaster Men's Insulated Freedom Suit gives you the old-school style of a full suit, with the features of a more modern getup. A waterproof, breathable membrane fortifies the already-tough, midweight oxford fabric for defense against rain, sleet, and snow, while its full-suit design ensures that you'll never again have to worry about exposing your bare back to the freeze when you tomahawk in pow. Synthetic, zonal insulation traps in heat to keep you toasty throughout lift rides and breaks while mesh vents at the underarms and inner thighs allow you to dump heat when you're working hard. When you're in need of some non-aspect-related, southern exposure, the 350-degree waist zipper allows you to take care of business, so you can get back to the task at hand.
Related Products Airblaster Freedom Parka - Women's
We know you're itchin' to free yourself from the crowds and long lift lines--we don't blame you. Leave the noise and stress behind, and find some fresh tracks in the Airblaster Women's Freedom Parka. The... Airblaster Ninja Suit - Women's
The Airblaster Women's Ninja Suit earns its black belt in the art of warmth whether you're skiing, camping, or just surviving the cold. Its Air Tech fabric mixes brushed polyester with stretchy Lycra for...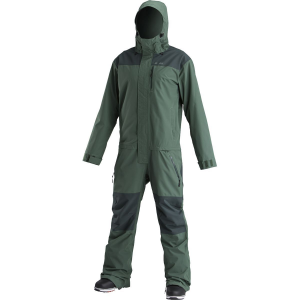 Airblaster Yeti Beast Suit - Men's
As you eye up the cliff drop just yards below you, contemplating whether or not you should send it, remember that you're wearing the Airblaster Men's Yeti Beast Suit and let that fact make the decision...
---