Price search results for Airblaster Elastic Boss Pant – Men's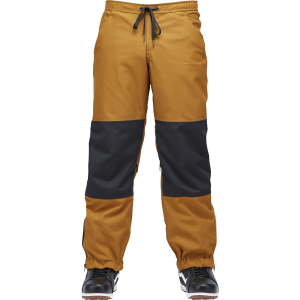 As much as you love to ride, there are days when it's hard to get yourself out of bed early and make it to the resort at a reasonable hour. Make the commute easier by exchanging your PJ's for the Airblaster Men's Elastic Boss Pants. These sweatpants-style pants have a relaxed fit to keep you comfortable while you're napping in the car, and a waterproof laminate with fully sealed seams to keep you dry once you get to the resort. As you ride, the stretchy fabric promises you uninhibited motion, and the classic jogger look gives you a not-trying-too-hard look.
Related Products Airblaster Cranky Chino Pant - Men's
Whether your friends are waiting for you at the park, or seeking out powder on their own with the assumption that you'll run into each other eventually, wear the Airblaster Men's Cranky Chino Pants to... Airblaster Pretty Tight Pant - Men's
You'll look like you just rolled up straight from a skate session when you hit the terrain park in the Airblaster Men's Pretty Tight Pant. With a slim fit that's pretty tight (but still roomy enough to... Airblaster Yeti Beast Bib Pant - Men's
There's nowhere you'd rather be than the skin track--except for maybe cruising back down. While you're meticulously inching up the steep slope, give yourself some protection from the elements with the...
---