Price search results for Adidas Supernova Tokyo Shirt – Women's Run throughout winter in the Women's Supernova Tokyo Shirt. Adidas designed this technical piece with Climalite fabric to keep you dry and comfortable as you work up a sweat during chilly runs. The extended collar provides plenty of neck coverage even if it shifts throughout your route, and the thumb covers and fold-over gloves allow your hands to release heat without freezing. Anticipating that you might want to track your run, Adidas constructed the thumb covers with conductive fabric so you can use your touch screen without removing them.
Related Products Adidas Supernova T-Shirt - Women's
When the morning chill is still lingering in the air, throw on the Adidas Women's Supernova T-Shirt for warm comfort during your morning workout. Its Climalite fabric draws sweat away from your skin and... Adidas Supernova Short-SleeveT-Shirt - Women's
While sweating is a necessary part of getting a hard workout in, nobody says you have to let it get in your way when you're getting after it. That's why Adidas made sure the Women's Supernova Short-Sleeve...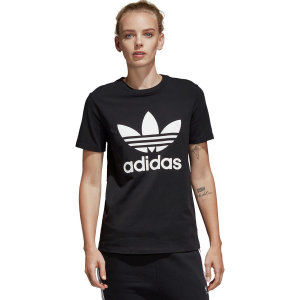 Adidas Trefoil T-Shirt - Women's
You have the sneakers and the tracking pants; now all you need is the Women's Trefoil T-Shirt to complete your Adidas outfit.
---