Price search results for Adidas Supernova Sequence 9 Running Shoe – Men's Tired of running shoes that look great but just can't connect with you' With the Adidas Men's Supernova Sequence 9 Running Shoe you'll have a running shoe that finally understands what you need. Engineered with an eye toward stability, it features Stableframe technology to give you a personalized running experience. The Stableframe EVA midsole works with the boost foam to adapt to your running style, so you get a customized feel based on your unique running stride. The boost midsole delivers better energy return than any other cushioning material for a lively feel with each stride. Unlike EVA, boost performs consistently whether temps are frigid or scorching, and it won't break down so you can keep pushing year after year. Torsion System technology is designed to guide the foot's rotation around the midfoot for optimal transition from midfoot stance to forefoot push-off. Rounding things out is a durable Continental rubber outsole that offers superior traction in both wet and dry conditions.
Related Products Adidas Supernova Sequence 9 Running Shoe - Women's
Just because your work calls for you to travel between Los Angeles and New York at least three times this month doesn't mean you have to give up your workout routine. Crafted specifically to endure varying... Adidas Supernova Running Shoe - Men's
If you've been suffering through a few weeks of nonstop plans, overtime at work, or an unreasonable amount of cookies in the house, make a fresh start and get back on the roads with the Adidas Supernova...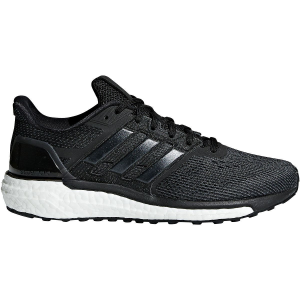 Adidas Supernova Running Shoe - Women's
When it comes to going the distance, look no further than the Adidas Women's Supernova Running Shoe to provide the support and energy return you need to tackle longer runs. The Supernova boasts neutral...
---