Price search results for Adidas Supernova Running Shoe – Women's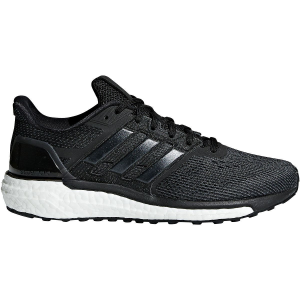 When it comes to going the distance, look no further than the Adidas Women's Supernova Running Shoe to provide the support and energy return you need to tackle longer runs. The Supernova boasts neutral support for adaptability, and the breathable mesh promotes a comfortable climate for your foot. Meanwhile, the seamless TPU panels provide torsional support, and the Torsion System between the heel and forefoot offer a more stabilized, comfortable stride. A FitCounter heel cup offers a natural fit that supports the Achilles tendon, without obstructing it or inducing discomfort. The boost midsole attenuates shock and assures a highly adaptive, responsive feel underfoot so you're able to uptick the miles. Not to mention, the StretchWeb and Continental rubber outsole ensures a lively feel and becomes more grippy when wet.
Related Products Adidas Supernova Running Shoe - Men's
If you've been suffering through a few weeks of nonstop plans, overtime at work, or an unreasonable amount of cookies in the house, make a fresh start and get back on the roads with the Adidas Supernova... Adidas Supernova Sequence 9 Running Shoe - Men's
Tired of running shoes that look great but just can't connect with you' With the Adidas Men's Supernova Sequence 9 Running Shoe you'll have a running shoe that finally understands what you need. Engineered... Adidas Supernova Sequence 9 Running Shoe - Women's
Just because your work calls for you to travel between Los Angeles and New York at least three times this month doesn't mean you have to give up your workout routine. Crafted specifically to endure varying...
---