Price search results for Adidas Supernova Running Shoe – Men's If you've been suffering through a few weeks of nonstop plans, overtime at work, or an unreasonable amount of cookies in the house, make a fresh start and get back on the roads with the Adidas Supernova Men's Running Shoe. A few lapsed weeks (or months) of training happen to everyone, and they're a lot easier to come back from with a fresh pair of kicks easing you into those first heavy steps. Soft and cushy, but not lacking backbone, the Supernova's a versatile all-rounder eager to help get you out the door. With stretchy, second-skin uppers wrapping around your feet, you'll be hard pressed to find serious fit issues in the accommodating Supernova. The breathable, light mesh hugs your lumps and bumps without restriction, while Adidas' FitCounter adds stability around your heel and Achilles to balance the shoe's soft, springy feel. The shoe's plushness comes courtesy of Adidas' Boost cushioning, a compound that manages to bring marshmallow softness with equal parts responsiveness and durability to every step. And as extra insurance, Adidas adds a beefy rubber outsole for a little more grip and durability when you start to really rack up the miles.
Related Products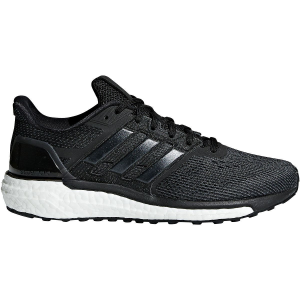 Adidas Supernova Running Shoe - Women's
When it comes to going the distance, look no further than the Adidas Women's Supernova Running Shoe to provide the support and energy return you need to tackle longer runs. The Supernova boasts neutral... Adidas Supernova Sequence 9 Running Shoe - Men's
Tired of running shoes that look great but just can't connect with you' With the Adidas Men's Supernova Sequence 9 Running Shoe you'll have a running shoe that finally understands what you need. Engineered... Adidas Supernova Sequence 9 Running Shoe - Women's
Just because your work calls for you to travel between Los Angeles and New York at least three times this month doesn't mean you have to give up your workout routine. Crafted specifically to endure varying...
---