Price search results for Adidas Outdoor Terrex Solo Approach Shoe – Women's
The Adidas Women's Terrex Solo Approach Shoe is a lightweight trekker that's sure to get you to faraway climbing crags and back quickly. Abrasion-resistant mesh keeps the upper breathable and comfortable, and the AdiPrene insert ensures extra comfort as well as shock absorption. Adidas also added a plate for impact protection and forefoot stabilization. The Stealth sole utilizes the same material used in 5. 10's sticky climbing shoes, so you know you can trust it when you have to step on slippery surfaces.
Related Products Adidas Outdoor Terrex AX2 CP Hiking Shoe - Men's
The hike ahead of you is going to involve ups, downs, rocky scrambles, muddy stretches, and possibly some rain, so make sure you're prepared with the Adidas Men's AX2 CP Hiking Shoe. This lightweight hiker...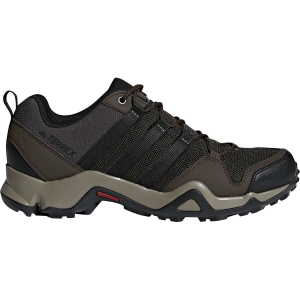 Adidas Outdoor Terrex AX2R Hiking Shoe - Men's
The Adidas Men's AX2R Hiking Shoes bring comfort on the trail so you can enjoy nature a little better--after all, if all you can pay attention to is your throbbing feet, you might miss a photo opp with... ---