Price search results for Adidas Outdoor Terrex Skychaser Shoe – Men's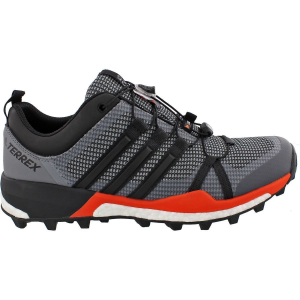 Whether you're racing the sun to the summit at dawn or trying to beat it down the mountain before it sets, the Adidas Men's Terrex Skychaser Shoes will give your feet the support and stability they need when you're showing that big burning ball in the sky who's boss. Adidas gave the Terrex everything it needs to tackle steep and technical trails with a lightweight mesh upper that's been reinforced with tough overlays to resist wear when you're running brushy and rocky trails. A quick-to-secure drawcord cinch ensures a tight and comfortable fit, so you don't have to worry about your laces tripping you up when you're navigating a steep descent. The sole of the Terrex borrows its tread design from mountain bike tires for reliable traction on everything from loose scree to packed-out dirt, while Adidas' Boost foam energy-returning technology ensures your feet feel lively to the very last step of your run. The Terrex also features Pro Moderator medial and lateral support to help add stability and prevent the foot from rolling inward on contact.
Related Products Adidas Outdoor Terrex Skychaser GTX Shoe - Men's
It's almost guaranteed that you're going to encounter some mud, washed-out steeps, and maybe a creek crossing on the trail, so you'll be glad you're wearing the Adidas Men's Terrex Skychaser GTX Shoes....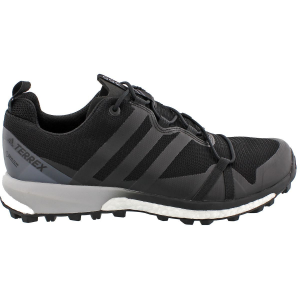 Adidas Outdoor Terrex Agravic GTX Shoe - Men's
If you wanted to run flat, easy trails then you'd go to the park and run those smooth gravel paths, but you'd rather run in the mountains where the trails are steep, technical, and demand an aggressive...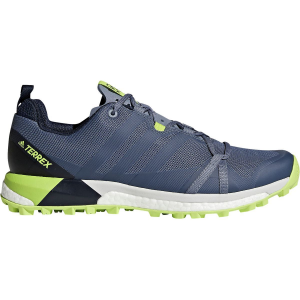 Adidas Outdoor Terrex Agravic Shoe - Men's
Sure, it's always a good idea to minimize your impact and tread lightly when you're in the mountains, but trails are there for a reason, so feel free to do your worst to them both above and below treeline...
---