Price search results for Adidas Outdoor Terrex Agravic Shoe – Men's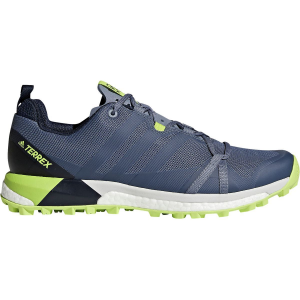 Sure, it's always a good idea to minimize your impact and tread lightly when you're in the mountains, but trails are there for a reason, so feel free to do your worst to them both above and below treeline with the Adidas Men's Terrex Agravic Shoes. With an aggressive Continental rubber sole that borrows its tread from mountain bike tires and a cushioning EVA midsole, the Agravics are well-equipped to the put the handle on some of the most technical trails you can find. Tough terrain demands tough materials, so Adidas wisely gave the Agravics a super durable textile upper with welded overlays to help add support. And since even the most trail-hardened feet can use some extra help on those longer runs, Adidas gave the Agravics its Boost energy-returning foam, which is located in the midsole to help keep some spring in your step during those 20 mile leg grinders.
Related Products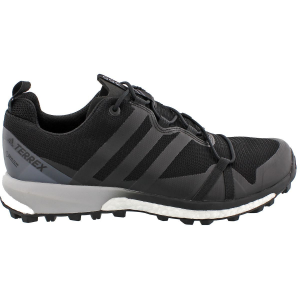 Adidas Outdoor Terrex Agravic GTX Shoe - Men's
If you wanted to run flat, easy trails then you'd go to the park and run those smooth gravel paths, but you'd rather run in the mountains where the trails are steep, technical, and demand an aggressive... Adidas Outdoor Terrex Skychaser GTX Shoe - Men's
It's almost guaranteed that you're going to encounter some mud, washed-out steeps, and maybe a creek crossing on the trail, so you'll be glad you're wearing the Adidas Men's Terrex Skychaser GTX Shoes....
---