Price search results for Adidas Outdoor Adizero II Cap It's hard to resist working out on a sunny day, but keeping the sun out of your eyes is a huge priority, so it's probably time to start wearing Adidas' Adizero II Cap. Made from a full-synthetic combo of polyester and elastane, the Adizero's ventilated Climacool band helps your scalp breathe when the sweat starts stacking up. Plus, this cap provides UPF sun protection so solar rays will have a hard time causing you grief.
Related Products Adidas Outdoor Adizero II Cap - Women's
Adidas' Adizero II Women's Cap is a smart and sleek hat for tennis and training. Featuring Climacool tech that keeps your scalp ventilated, the Adizero also boasts a UPF rating topping 50+. The side-mesh... Adidas Outdoor Adizero II Visor
If you can just never seem to get the sun of your eyes, do yourself a favor and pick up Adidas' classic Adizero II Visor. The Adizero will keep the sweat out of your eyes while you serve up a beatdown...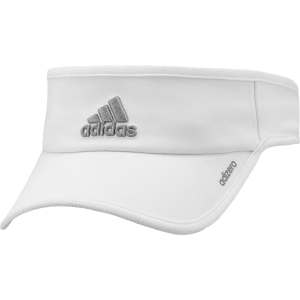 Adidas Outdoor AdiZero II Visor - Women's
You love running desert trails in the pink predawn light, but experience tells you that the sun will eventually rise over the bluff. Good thing you have the Adidas Outdoor Women's AdiZero II Visor to keep...
---