Price search results for Adidas CMTTD Racer Sports Bra – Women's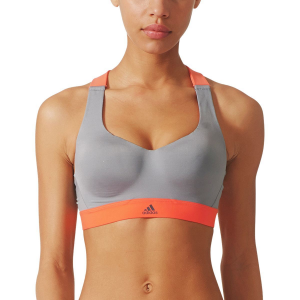 The Adidas CMTTD Racer Sports Bra performs well for everything from the trail run you just nailed to the kick-boxing class you're planning on attending for cross-training. It's designed to handle high-impact training, so you can confine the soreness to your muscles, not your chest. The racerback cut allows for your full range of motion during your explosive workout, and the lightweight fabric helps manage moisture when the sweat starts rolling.
Related Products Adidas Beyond the Run Hoodie - Men's
Before you start to head out for a run in your favorite, broken-in cotton hoodie, take a second to think. Instead of ruining your relationship with your go-to sweatshirt after it leaves you soaked and... When you're training, you don't want the fear of wardrobe malfunctions distracting you from crushing it. When you train in the Adidas Women's Halter Bra, you can put your worries aside with its high-neck...
Adidas Primeknit Dip-Dye T-Shirt - Men's
Spring runs are notoriously difficult to dress for. When you're getting ready to head out the door on a brisk but sunny Saturday morning, trust the Adidas Primeknit Dip-Dye T-Shirt to keep you dry and...
---