Price search results for Adidas Adizero Boston 6 Running Shoe – Men's As everlasting and enduring as the city its named after, the Adidas Men's Adizero Boston 6 Running Shoe keeps you comfortable, light, and fast on your feet for miles. An engineered mesh upper maximizes breathability when running on hot days, while the MicroFit system locks in your foot for a precise fit when you decide to pick up the pace. Bringing life back into your stride, Adidas' boost midsole ensures every step is charged with light, fast, and bouncy energy to push you towards a new personal best. And to round out this shoe, the lightweight and elastic Stretchweb rubber outsole not only adapts to changing ground for ample stability, but it also assures that you get the most out of each step, from touchdown to push-off.
Related Products Adidas Adizero Adios 3 Boost Running Shoe - Men's
Instead of doing your darndest just to keep staring at someone else's back, leave them in the dust with a little help from the Adidas Adizero Adios Boost 3 Men's Running Shoe. It's a lightweight (just...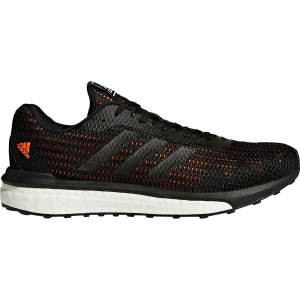 Adidas Vengeful Running Shoe - Men's
You've got a bone to pick with the sidewalk pavement. So, run fast and angry with the help of the Adidas Men's Vengeful Running Shoe. The Air Mesh upper promotes breathability to keep your foot cool throughout... Adidas Busenitz RX Shoe - Men's
Tapping into the ideas behind the designers of the heritage Adidas football boots, the creators of the Men's Busenitz RX Shoe fitted the pigskin leather suede with a slender silhouette and perforated stripes....
---