Adidas 3-Pack T-Shirt – Men's You might be tempted to wear all three of the Adidas' 3-Pack Men's T-Shirts at once, but you probably shouldn't. Designed to wick moisture and dry quickly, these t-shirts provide adaptive performance from the skatepark to the corner brewpub, while the classic crew silhouette maintains timeless appeal and versatility.
Best Price: $44.95 from Backcountry.com
Related Products
Adidas Blackbird Palm T-Shirt - Men's
There's a reason the basic cotton crew t-shirt has yet to go out of style. Sometimes simple is all you need. The Adidas Blackbird Palm T-Shirt is simple in construction, innovative in design. The Adidas... Adidas Stretch Flannel Shirt - Men's
Try as you might, that standard cotton tee isn't going to accommodate your post-skate-sesh burrito baby--however, the Adidas Men's Stretch Flannel Shirt certainly will. Laying claim to comfort, this button-up...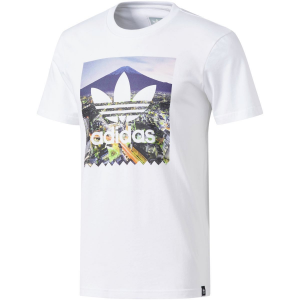 Adidas Tokyo Photo T-Shirt - Men's
Have you ever pulled on a t-shirt and been transported to another place' Sitting in a suburban living room in just got much more interesting with the Adidas Tokyo Photo T-Shirt. Whether you lived in Tokyo...
---