Price search results for Abbey Bike Tools Team Issue Ti Hammer Originally made as a one-off tool for a special order, the Abbey Bike Tools Team Issue Ti Hammer is becoming a staple in the tool kits of many serious traveling mechanics. It weighs in at just 265g and is just one foot long, so it can be part of a travelling tool kit but still has enough heft and length to make short work of stubborn bearings. The soft face is easily replaceable with other one-inch threaded faces, and the silicone grip cushions your hand from the vibrations of the all-titanium construction.
Related Products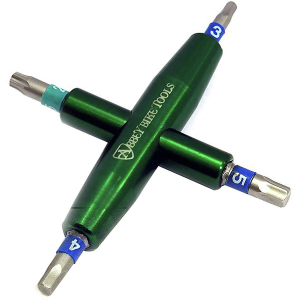 Abbey Bike Tools 4-Way Multi-Tool
The Abbey Bike 4-Way Multi-Tool is an ideal instrument for quick adjustments in your home shop or on the road and trail. Abbey Bike's signature green anodization makes for a handsome tool that easily fits... Abbey Bike Tools Suspension Top Cap Socket Set
If you're working on your own suspension fork at home, you have our admiration. We'd recommend adding Abbey Tools' Suspension Top Cap Socket Set to your setup to make your job a little bit easier. Made... Abbey Bike Tools Suspension Top Cap Sockets
Few things are as frustrating as rounding off the soft aluminum top caps on suspension forks or marring the crown. Stop using a crescent wrench or run-of-the-mill sockets and invest in specialty Suspension...
---