ARVA Cerro Ski Poles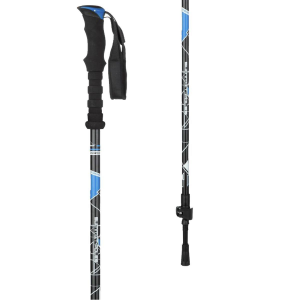 You don't often see people asking about ski poles in the lift line or writing lengthy reviews about them for magazines and websites, but those poles are there whether you're making your way down a section of bulletproof garbage or a pristine powder run. The Arva Cerro Ski Poles will keep the pole portion of your kit up to snuff with the rest of your gear with durable aluminum shafts and two-piece adjustability. Designed primarily for use in the backcountry, the poles have a solid locking mechanism to keep them at the desired length and an extended foam grip for those long traverses.
Best Price: $32.47 from Backcountry.com
Related Products When you finally succumb to the siren's call and book your trip to Japan, be sure to bring the Arva Fuji Ski Pole along. Its three-piece aluminum shaft will collapse for easy traveling, while the extended... Like their namesake, the Arva Makalu Ski Poles are rugged and burly. Their three-piece aluminum shafts can be collapsed down to 105cm and attached to a backpack when you need to free you hands up on the...
A good ski partner can be hard to come by; depending on conditions, you may find yourself skiing crud, mank, or ice all by your lonesome. Don't feel too alone though, because the Arva Tibet Ski Poles share...
---