Price search results for ALPS Mountaineering Comfort Series Air Pad ALPS Mountaineering gave the Comfort Series Air Pad a slew of features to ensure you sleep comfortably and stay on your pad all night. This inflatable pad includes an open-cell foam interior for increased insulation and faster self-inflation. Just open the valves and let it sit. A few puffs of air is all that's needed to finish the job. ALPS Mountaineering added PVC dots to the bottom of the Comfort Series Air Pad to keep it in place on your tent's floor. They also included a brushed top fabric that keeps you from slipping off in the middle of the night.
Related Products ALPS Mountaineering Lightweight Series Air Pad - XL
Sleeping on the ground in just a bag with no sleeping bag is not only uncomfortable, it's also cold because you have nothing between you and the cold ground. The Alps Mountaineering XL Lightweight Series...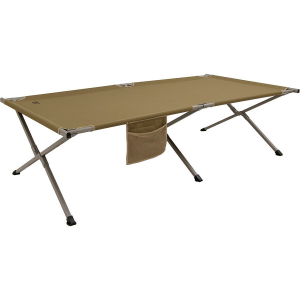 ALPS Mountaineering Camp Cot - XL
You made sure to bring the portable hot tub, satellite dish, generator, stereo, and shower, so why are you still sleeping on the ground' On your next trip, pack the Alps Mountaineering Camp Cot so you...
---