7mesh Industries Resistance Vest – Men's You've had other wind vests, but none have left the legacy on your riding kit that 7Mesh Industreis' Resistance Men's Vest will. Cut with an aggressive athletic fit and articulated for comfort and coverage in the saddle, the Resistance features knit side panels that increase breathability without allowing the wind to cut to your core. At the front, shoulders, and back, a Windstopper Active Shell membrane is laminated to ripstop polyester to prevent mountain breezes and gusty spring days from sapping your energy, and full seam taping ensures that gale-force headwinds can't find any gaps in your lightweight armor. Windstopper is formulated to be as breathable as it is windproof, too, so you won't find yourself having to choose between suffering from cold or from excess sweat. A zippered side pocket provides a secure spot for energy gels, a phone, or house key, as well as a place to stash the Resistance when you're not wearing it. Reflective details take some of the uncertainty out of long rides that might stretch into the dusky hours of the evening.
Best Price: $169.95 from Backcountry.com
Related Products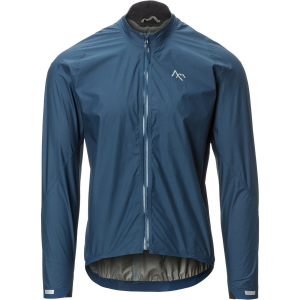 7mesh Industries Resistance Jacket - Men's
The most important feature of the 7mesh Industries Resistance Men's Cycling Jacket is what it doesn't have: weight. At just 115 grams, it's virtually unnoticeable on your back, and packs up to about the...
7mesh Industries Resistance Jacket - Women's
The 7mesh Industries Resistance Women's Cycling Jacket has plenty of great features, but it's what it doesn't have that's most important: weight. At just 110 grams, it's virtually unnoticeable on your... 7mesh Industries AK1 Undershort - Men's
Turn your favorite pair of artisan denim or ironically khaki leg coverings into a commute-worthy wardrobe choice with the 7mesh Industries Men's AK1 Undershorts. With impeccable moisture management and...
---