Price search results for 7mesh Industries Renegade Jacket – Men's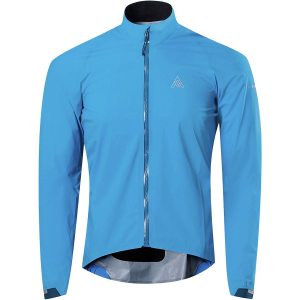 On the 7th day, 7mesh industries said "let cyclists stay dry." And we did, thanks to the 7mesh Renegade Jacket. Designed to keep you dry on your day missions come rain or shine, the Renegade stands up to sudden downpours and crosswinds on barren and exposed roads with thanks to its durable seam-sealed construction backed up by GoreTex. The jacket uses an athletic cut that accommodates layers, and full jersey pockets, without adding much excess fabric, so you can maintain a streamlined fit that doesn't get caught in the wind on the road or mountain. 7mesh captures the quality that's we've grown to expect from the Squamish, BC based company once again in the Renegade, this time by implementing a GoreTex Active shell that claims complete waterproofing and breathability, with a membrane topping its nylon shell to keep water beading and rolling off. The seams are taped inside with 13mm seam tape to seal out any moisture that's trying to work its way in through the stitches, so you can face downpours with complete confidence. Keeping you dry on the outside is just step one, though, as time on the bike gets us sweating it's critical that we also have breathability, and thankfully we're covered for that, too. The GoreTex membrane is completely breathable and pulls sweat away from your skin, so you don't end up soggy and cold just an hour into your ride. 7mesh designs all of its pieces with the lucky number 7 in mind, 7 days, or 7 hours. The Renegade features their 7 hour fit, using Helix patterning to perform on the bike with maximum comfort when you're in the bars in your riding position. Extra volume in the lower back is designed to accommodate an inner jersey with full pockets, and lower back pass-through vents allow you to reach in and access your pockets without removing the jacket. One zippered, waterproof pocket offers storage for items that need to be secured, but you won't find a ton of bells and whistles on the Renegade. Instead it's designed for minimalism, ...
Related Products 7mesh Industries Oro Jacket - Men's
In a world of bells and whistles, 7mesh Industries offers salvation from the complicated with the Oro jacket, featuring a truly minimalist design that focuses on the benefits of eliminating the excess.... 7mesh Industries Re:Gen Jacket - Men's
Riding is an inherently warm pursuit, even when it's soggy outside, which makes it tough to find that perfect balance between waterproofing and breathability. By using Gore-Tex Active Shell, though, 7mesh... 7mesh Industries Northwoods Jacket - Men's
Spring brings with it a newfound freedom from layers as the snow melts and high mountain roads reappear. We've all been tempted to set out on an early April ride armed with only a jersey in temperatures...
---