Price search results for 7mesh Industries MK1 Half Short – Men's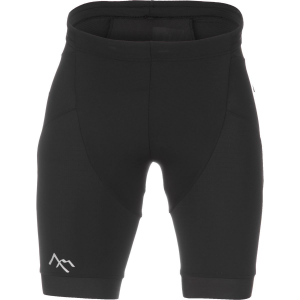 Given the lush foliage and ominous, misty woods of 7mesh Industries' marketing materials, you'd be forgiven for assuming that it's primarily a mountain bike clothing manufacturer. While much of 7mesh's small line of introductory offerings does lean toward the damp trails of early spring, the MK1 Half Shorts are equally at home on the road. In fact, the MK1s' peculiarities of material and construction make them a more advanced pair of shorts than the type of road-specific kit we're used to seeing from even the venerable Italian manufacturers -- all with an understated aesthetic that doesn't drown out chattering chains and humming tires with flashes of neon and sponsor branding. While the shorts' warp knit nylon/elastane blend may seem familiar, the waffle patterning on the inside is a wholly unexpected feature. It increases surface area to mechanically boost the material's inherent wicking ability, keeping you drier and more comfortable. The material is arranged in panels that are darted and shaped, so they fit your body rather than deforming to stretch across it. The number of panels used -- and the seams needed to join them -- are kept to a minimum, and the combined effect is a bunch-free ride that doesn't abrade or slip around on your skin. The fit is excellent, but the ingenious method of incorporating the chamois may be our favorite element of the shorts' construction. Instead of attaching the chamois directly to the shorts, it's stitched to what 7mesh refers to as a hammock, but which might be more helpfully described as a free-floating panel of mesh. This mesh insert is then stitched to the shorts. The result is that the chamois moves with your body, independently of the body of the shorts, relocating the point of friction from the body/chamois interface to the chamois/shorts interface and all but eliminating chafing. The chamois itself is a non-bulky affair from Cy-Tech's EIT wing, providing just the right amount of targeted, high-density foam padding for...
Related Products 7mesh Industries MK2 Bib Short - Men's
7mesh Industries has impressed us yet again with its MK2 Men's Bib Short, an update to last year's venerable MK1 short. Sure, it's a marvel to look at, all clean lines, minimal accents, and invisible seaming,... 7mesh Industries Flightpath Short - Men's
The Glidepath's cousin from the other side of the singletrack, the 7Mesh Men's Flightpath Short brings you that same lightweight design with a superior fit, but cranks up the toughness for those who want... 7mesh Industries Foundation Bib Short - Men's
Your liner may not be the most glamorous part of your biking kit, and it's probably not something you spend a lot of time getting excited about. As long as it's comfortable, you're happy. 7mesh Industries...
---