Price search results for 7mesh Industries G2 Jersey – Short-Sleeve – Men's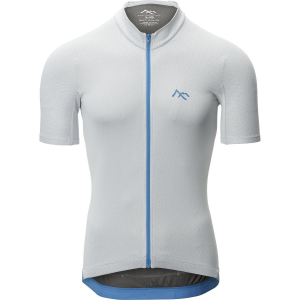 We have a hard time discussing the fabrics in 7mesh Industries' minimalist kits without the word sumptuous entering into the conversation at some point. Sure, it's a word that more readily brings to mind a rest day spent at the spa than a day in the saddle, but in this case, it fits. Brand new for this year, the G2 Jersey lives up to our expectations. It's built with an innovative, clean, and--yes--sumptuous construction that makes it a contender for quickly becoming a favorite training jersey. Uncommon for top-end kit, the jersey achieves its contoured fit sans Lycra, relying instead on a custom asymmetrical weave and a springy blend of polyester and carbon knit fibers to follow your body movements while remaining light and dry. The asymmetrical weave also aids in the fabric's overall behavior over the course of a long ride, equipping it to adapt by stretching laterally when you're descending in your drops without stretching vertically. If you've ever experienced pocket stretch or bunching fabric as you move around in the saddle, this construction aims to directly limit that from happening. We're happy to report that 7mesh took the same amount of care with the rest of the G2's design as it did with its innovative fabric, subtly integrating features like pocket guards and space for internal cable routing for headphone cords into the back of the jersey. Far different than the pocket protectors of old, the pocket guards in the G2 save you from spending your ride reaching back periodically to make sure keys and food haven't spilled out. For added storage space with more security, two zippered, horizontal pockets flank the three rear pockets.
Best Price $83.97 from Backcountry.com
| Retailer | Product Name | Price | |
| --- | --- | --- | --- |
| Backcountry.com | 7mesh Industries G2 Jersey - Short-Sleeve - Men's | $83.97 | Buy Now |
Related Products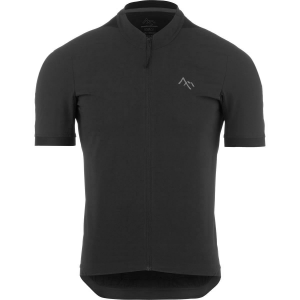 7mesh Industries S2S Jersey - Short-Sleeve - Men's
If you were to take the S2S Jersey apart all the way down to each of the synthetic fibers that constitute its overall blend, you'd have an idea of why we're so excited about the newly debuted 7mesh Industries....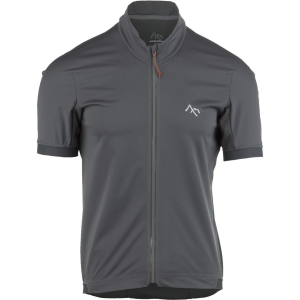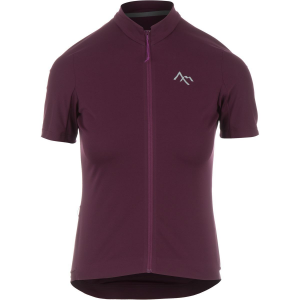 ---