Price search results for 7 Protection Flex Knee/Shin Guard The moment you realize you've forgotten to put knee guards on after already lacing your shoes is never a good one, especially because by that point, your mind is usually already out the door. Simplify your pre-ride routine and save your skin with 7 Protection's Flex Knee/Shin Guard. 7 Protection gave the Flex Knee/Shin Guard a wrap construction to make it easy to put on, and the design also gives you the option to take off the shin padding on mellower days. Made out of rugged neoprene and perforated foam, the chassis won't collect moisture on hot days, and the whole piece is adjustable via a main strap and backed with calf support. The guard exceeds safety standards for CE certification, so you can ride confidently into unknown terrain with knee cap and shin foam standing between you and unyielding rock gardens.
Best Price $99.95 from Backcountry.com
Related Products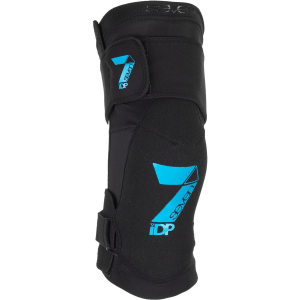 7 Protection Transition Wrap Knee Guard
You started out riding only smooth XC singletrack, doing some light trail riding now and then, and telling yourself knee guards were overkill for the kind of riding you were doing. But that was years ago,... 7 Protection Flex Body Protector
Some days, just looking down from the lift at the trails you're about to ride is enough to make you glad you put all of your body armor on. But other days, the decision can be much less clear. Throw 7... 7 Protection Flex Elbow Guards
If you're gonna go big and take risks, elbows need coverage too. Seven Protection's Flex Elbow Guards help give you the confidence to progress and go fast. Seven Protection makes guards for riders by riders...
---