3T Rotundo Pro Handlebar Workhorse, bombproof -- few words feel as beaten to death across the industry when describing kit. The truth is that these words often translate to: not carbon. While applying the "not carbon" label to 3T's Rotundo Pro Handlebar is not technically fallacious, it is an act of gross underestimation. Given the similar stiffness and worry-free installation of the Rotundo Pro's 7075 alloy construction, the only real distinction between it and the more expensive (read: carbon) Team model is the weight. The Pro model still features the grip-it-anywhere comfort of a round cross section and smoothly transitioning drops, which describe one of the most classic silhouettes in cycling. In terms of dimensions, that silhouette manifests as a slightly shorter reach and significantly more pronounced drop than its ergonomic counterpart. The short reach allows the levers to be positioned a little closer for a more upright, comfortable posture while you're noodling on the hoods. Conversely, the longer drop means that when it's time to get serious in a finale or aerodynamic on a long solo move, you can hit a lower, more aggressive posture as the situation demands. But the weight. It's true. Compared to the Rotundo Pro, the Team does save around 50 claimed grams; however, we'd suggest that if you're that worried about saving weight, then you might just opt for the Pro and drop grams by cutting off the man bun, instead. That way, you'll not only save a couple hundred dollars and the aneurysm-inducing stress of precisely measuring Newton meters while building your cockpit, you'll also avoid future ridicule on par with what you currently get every time your group ride buddies see pics of you from grade school with a bowl cut or the fashion mullet and waxed mustache from that period in 2012 when you only wore paisley print skinsuits in the saddle.
Best Price: $104.99 from Backcountry.com
Related Products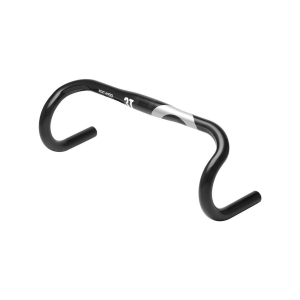 The 3T Rotundo LTD Handlebar was designed for riders who prefer an old-school, round drop handlebar, but also want all the modern advantages of a carbon fiber bar. 3T combined classic design with its industry-leading... 3T Rotundo Team Stealth Handlebar
3T designed the Rotundo Team Stealth Handlebar for those of us who prefer a traditional round drop handlebar, yet also want all the modern advantages of carbon fiber. Pairing classic design with 3T's industry-leading... 3T's Aeronova LTD Handlebar is just about the tippy-top peak of cycling cockpit technology that you can put your hands around today. For some perspective, consider that 3T enjoyed some pretty high-profile...
---