Price search results for 3T Ionic 25 Pro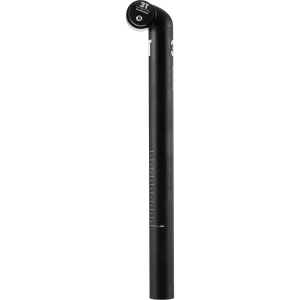 The Ionic seatposts by 3T are a new series that feature its proprietary Difflock seat clamp. The Ionic 25 Pro features a robust and sophisticated design that is ideal for the rider who needs a more rearward position on a shorter frameset. The entry level Ionic 25 is called the Pro. It was constructed with aluminum alloy construction for the entire seatpost and clamp assembly. While this adds a few grams (35 to be exact) to the overall weight of the post, it makes up for it in price. The setback is 25mm, which gives riders a more relaxed position and is also an ideal compromise on a frame with a more aggressive seat tube angle. Sitting on top of the post is 3T's Difflock saddle clamp. This is a single bolt clamp that allows for quick and easy adjustment of both saddle angle and fore-aft position. The hex key both is easy to reach and you're able to adjust for setback without disrupting seat angle. The 3T Ionic 25 Pro seatpost comes in two widths: 27. 2 and 31. 6mm. Each width is available in two lengths: 280mm and 350mm. It is finished in shot peened black with a white vertical stripe.
Related Products The 3T Ionic 0 LTD seatpost keeps rider weight forward for quick, precise handling and a more aggressive pedaling position. This high-modulus carbon fiber seatpost also absorbs road vibration to reduce... Purists and old-schoolers alike often fall back on aluminum's proven performance in areas of the bike where strength is absolutely critical. 3T's Ionic 0 Pro seatpost is identical to the Team version in... The 3T Ionic 25 LTD seatpost combines 3T's top-notch high modulus carbon fiber with a 25mm offset for light weight, vibration absorption, and a neutral seat position. Constructed from alloy and carbon,...
---