Price search results for 3T Ionic 25 LTD Seatpost The 3T Ionic 25 LTD seatpost combines 3T's top-notch high modulus carbon fiber with a 25mm offset for light weight, vibration absorption, and a neutral seat position. Constructed from alloy and carbon, this Ionic 25 LTD features 3T's high modulus carbon for the seatpost itself. It is designed using 3T's Clean Sheet design, which means that the way it is formed makes optimal use of the carbon weave sheets and their individualized properties. High modulus carbon fiber has a higher strength to weight ratio than standard carbon, yet it still functions to dampen vibration from rough roads. Placed on top of the carbon post is 3T's proprietary Difflock seat clamp. Unlike most clamps that require extreme flexibility and a creative technique to loosen two bolts and properly adjust the saddle, the Difflock features a single bolt. The saddle is easily adjustable for both angle and fore-aft position with the turn of a single hex bolt.
Related Products The 3T Ionic 0 LTD seatpost keeps rider weight forward for quick, precise handling and a more aggressive pedaling position. This high-modulus carbon fiber seatpost also absorbs road vibration to reduce... Purists and old-schoolers alike often fall back on aluminum's proven performance in areas of the bike where strength is absolutely critical. 3T's Ionic 0 Pro seatpost is identical to the Team version in...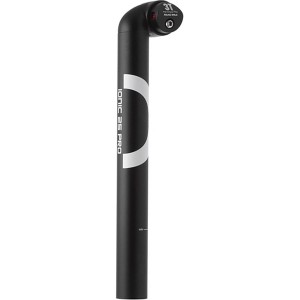 The 3T Ionic 25 Pro seatpost is ideal for the self-sponsored cyclist who appreciates a little extra room in the cockpit. The entry level Ionic 25 is called the Pro. It was constructed with aluminum alloy...
---