Price search results for 3T Aeronova Team Carbon Handlebar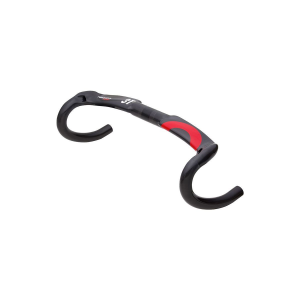 Aluminum is wonderful. It's given us cans, airplanes, foil, and so much more, but the fact is that you wouldn't want to enter into the race of your life with handlebars made from soda cans. Better to have something made from carbon like the 3T Aeronova Team Carbon Handlebar. No need to waste breath telling you that the Aeronova is ultralight, so let's focus on shape. Carbon can be sculpted more easily than aluminum, which allows the engineers at 3T to build the Aeronova with a full aerofoil teardrop cross section that cuts through the wind with less resistance, a marginal gain that seriously adds up over long distances. All the aerodynamics in the world are no good if your bars don't feel right when you use them, though. 3T builds the Aeronova with an accessible 127mm drop, so you don't need to be a all limbs to get comfortable and efficient, and a 104mm reach that lets you get out of the saddle while climbing or get low and aero when you're practicing your solo skills. Six degrees of flare help take stress off your wrists during long days off the front by yourself, and internal cable routing lets you cut down on weight by skipping bar tape on the flats.
Related Products 3T's Aeronova LTD Handlebar is just about the tippy-top peak of cycling cockpit technology that you can put your hands around today. For some perspective, consider that 3T enjoyed some pretty high-profile... 3T Aeronova LTD Stealth Handlebar
3T's Aeronova LTD Stealth Handlebar flies under the radar in all the important categories: drag, weight, and looks. While the first two are important in a save-every-watt kind of way, we aren't ashamed... The teens are shaping up to be the decade of aerodynamics in the peloton: wheels, frames, shoes, helmets, and even bibs and jerseys are pitching in with wind-dodging designs. Little wonder, then, that...
---