Price search results for 3T Aeronova LTD Stealth Handlebar 3T's Aeronova LTD Stealth Handlebar flies under the radar in all the important categories: drag, weight, and looks. While the first two are important in a save-every-watt kind of way, we aren't ashamed to admit that we're equally as excited about the LTD Stealth's muted aesthetics. The silver accents on the normal Aeronova LTD may not be as flashy as the red Team issue kit ridden by the BMC Racing Team, but the Stealth model takes the murdered-out matte look to extreme levels. Looks aside for now, the Aeronova LTD Stealth's low weight and aerodynamic considerations are also pretty damn extreme. The aerodynamic, NACA airfoil shape of the bar's tops are the same as those on the Team version ridden by BMC, but the LTD's higher modulus, unidirectional carbon fiber means it comes in even lighter, weighing a full 15 claimed grams less than the kit used by the likes of Gilbert and van Garderen. If you're looking to save even more grams by leaving the tops un-taped, channels for internal cable routing keep your cockpit tidy. The drops describe the "ergo" shape of 3T's Compact design. Compared to the drops of 3T's more traditional Round curve, the Compact shape features a tighter reach and drop. This shape allows for the hoods to be positioned low and fast in order to accommodate the tendency for today's cyclists to spend most of their time there rather than in the drops. The Compact bars mean aggressive hoods don't come at the cost of the drops being out of reach, so you can still comfortably tuck on descents or long solo moves.
Related Products 3T's Aeronova LTD Handlebar is just about the tippy-top peak of cycling cockpit technology that you can put your hands around today. For some perspective, consider that 3T enjoyed some pretty high-profile...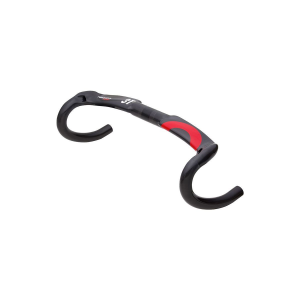 3T Aeronova Team Carbon Handlebar
Aluminum is wonderful. It's given us cans, airplanes, foil, and so much more, but the fact is that you wouldn't want to enter into the race of your life with handlebars made from soda cans. Better to have... 3T Ergonova LTD Stealth Handlebar
As it does with its traditional drop bars, 3T bestowed careful attention to detail on its top-end Ergonova LTD Stealth Handlebar, shaping it in the increasingly popular ergonomic style and creating the...
---