3T Aeronova LTD Handlebar 3T's Aeronova LTD Handlebar is just about the tippy-top peak of cycling cockpit technology that you can put your hands around today. For some perspective, consider that 3T enjoyed some pretty high-profile exposure at this year's Tour courtesy of Dennis' stint in yellow and Teklehaimanot's longer turn in polka dots, but not even riders of their caliber default to the LTD level. Instead, their machines display the telltale red accents of 3T's Team kit. Given its rarity -- even amongst the most celebrated cyclists on the planet -- the Aeronova LTD Handlebar is the HC version of cycling kit: lighter, stiffer, and all-around better even than what much of the peloton rides. As with the Team version ridden by Teklehaimanot during his endless miles off the front in this year's Tour, the Aeronova LTD's flats feature a NACA airfoil shape, which does exactly what you'd expect: cut through air and manage laminar flow across its surface to reduce drag and increase efficiency. The flattened, tapered shape also presents a broad, slightly tapered surface to your palms, netting just a bit more comfort while you're recovering in wheels between turns at the front. The drops also benefit from the involved tinkering of 3T's engineers with an ergonomic shape that tightens up the reach to the aggressive spot at the front while also improving the platform for sprinting or covering attacks.
Best Price: $399.00 from Backcountry.com
Related Products 3T Aeronova LTD Stealth Handlebar
3T's Aeronova LTD Stealth Handlebar flies under the radar in all the important categories: drag, weight, and looks. While the first two are important in a save-every-watt kind of way, we aren't ashamed...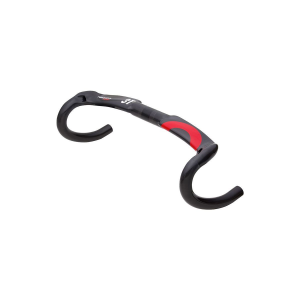 3T Aeronova Team Carbon Handlebar
Aluminum is wonderful. It's given us cans, airplanes, foil, and so much more, but the fact is that you wouldn't want to enter into the race of your life with handlebars made from soda cans. Better to have... All handlebars are not created equal, and when you're building up your svelte carbon racing machine, bars are a crucial piece for both fit and (let's admit it) aesthetics. Fortunately, 3T has always had...
---