Price search results for 3T ARX II Team Stealth Stem There's a time and a place for loud and flashy. Sometimes that place isn't the cockpit of your bike. The 3T ARX Team II Stealth Stem adds a touch of elegance to your cockpit with a subtle, matte black finish that downplays the Team stem's stiff, lightweight performance. The Arx II Team continues the original's tradition of simple, classic construction -- but with a design that drops grams from its already low weight. The ARX Team takes the classic, tubular design of the ARX and further refines it with slightly flattened sides and a sculpted faceplate. The ARX II Team stem's faceplate crimps in tighter at the top and bottom, which results in an ovalized appearance. However, even with the new shape, 3T was still able to retain its hallmark cut-out logo. This generation of the ARX also sees a more precise installation process than previous models. Instead of a traditional four-bolt Allen assembly, the ARX II features a Torx assembly at the faceplate and a single M6 bolt to clamp the stem to the steerer.
Related Products Satin black is cool. Many of today's top-shelf bikes are designed with a menacing mix of gloss and satin black. To upgrade one of these race-bred rigs with bright, shouty components would defeat the purpose....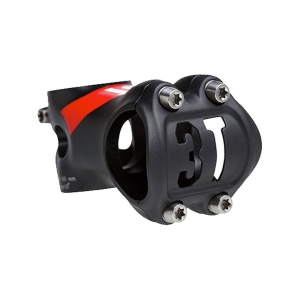 With its 7075 T6 body and titanium bolts, the Mountain Team Stem is the lightest offering in 3T's off-road line, comparing quite favorably with many road-specific stems. Low weight isn't synonymous with... 3T Aerotundo Team Stealth Handlebar
Many of us are keen to take advantage of the flashy shaping -- and its inherent aerodynamic advantage -- of 3T's Aerotundo Stealth Handlebar. But. We aren't all necessarily feeling the fire engine inspired,...
---