Price search results for 3T ARX II Pro Stem The engineers at 3T aren't (quite) rocket scientists, but they do seem to recognize a solid design when they've produced one. We're pleased to report that the ARX II Pro Stem's popularity throughout the self-sponsored peloton hasn't escaped their notice, and it returns for another model year with all of its original upgrades to the ARX Pro intact but nothing more besides an updated graphic. With its time-tested 2010 alloy construction and +/- 6 degrees of rise, the ARX II Pro all but guarantees the safety of your cycling ship and all those aboard. The most obvious change from the ARX Pro to the ARX II Pro is that the length of the stem is slightly flattened on the sides. 3T notes that this creates a sleeker profile than the original ARX, but we also notice that it brings the cross section more in line with the squared-off edges of stems like the Integra, which use sharper angles to increase resistance to the torsional flex that can eat up watts while you're pulling on the bars in anger. The face plate's top and bottom have also been trimmed up, bringing the bolts together and reducing both the aerodynamic footprint and the weight -- the ARX II Pro weighs a claimed 5g less than its predecessor at 135g. The stem's hardware marks yet another point of departure, switching from Allen to Torx/star bolts, which is a less immediately obvious difference that, if overlooked, may frustrate the unprepared mechanic. The faceplate attaches with the standard complement of four bolts, but the steerer clamp only uses one, contributing yet more weight savings.
Related Products The ARX LTD Stem is the only stem in 3T's road line made from carbon fiber. While we're not sure why the Team stem didn't get the same treatment, the end result is that the ARX LTD drops an additional...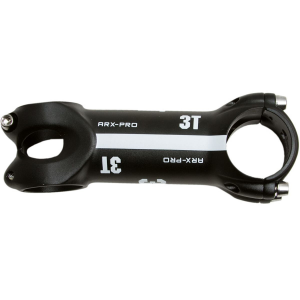 The 3T ARX Pro stem is identical in almost every way to the ARX Team stem. In fact there are only 2 differences of note: (1) The ARX Pro uses a steel bolt package instead of the Team's titanium bolts.... Satin black is cool. Many of today's top-shelf bikes are designed with a menacing mix of gloss and satin black. To upgrade one of these race-bred rigs with bright, shouty components would defeat the purpose....
---