Price search results for 2XU Project X Tri Suit – Men's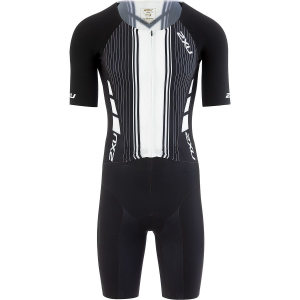 As athletes, we're always looking for ways to be a little bit more aerodynamic for faster times on race day. Enter the 2XU Project X Men's Tri Suit, with supportive compression and a streamlined fit that eliminates the potential for flapping fabrics, bunching tops, gaping waistbands, and other wardrobe worries, letting you focus on getting to the finish line. Shaped with smooth, moisture managing fabric, the Project X Tri Suit provides allover support to your hardworking muscles to lessen fatigue as you spend hours on the course. 2XU carefully designed the sleeves to reduce drag on the bike, and added two aerodynamic pockets across the back for stealthily toting snacks. A front zipper promotes additional cooling airflow as the temperatures rise. 2XU includes its Project X chamois, which features a slim, flexible profile that won't inhibit your freedom of movement or chafe when you hop off the bike and onto the run course.
Related Products 2XU X-Vent Front-Zip Tri Suit - Men's
You've logged the miles, pushed through your perceived limits, and have come out stronger than you ever imagined possible. Now comes the fun part. Amp up your performance with the 2XU Men's X-Vent Front-Zip... 2XU Compression Full-Zip Sleeved Tri Suit - Men's
Rather than worry about choosing tri separates to race in that will fit correctly and pair well together, you can simplify your prep by investing in a one-piece suit like 2XU's Compression Full-Zip Sleeved... Wearing compression while you exercise can feel great for your muscles, but it's often not designed to be worn for hours after your workout is done. 2XU specifically created its 24/7 Compression Sock for...
---