Price search results for 2XU Power Recharge Recovery Tights – Men's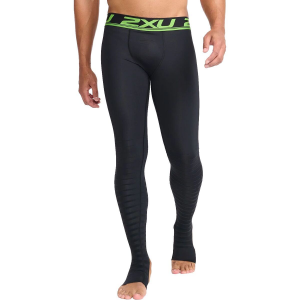 In order to be performance ready, you need to stick to a strict training schedule which often pushes the limits of your recovery. Give yourself a boost in the right direction with the 2XU Men's Power Recharge Recovery Tights. Crafted from a powerful compression fabric, these tights are designed to be used for serious relaxation after a hard ride. The fabric offers a firm hold around your leg muscles to optimize circulation and increase oxygen delivery, thus accelerating the muscle's repair time so you'll be ready to head out day after day to hammer those pedals.
Best Price $139.95 from Backcountry.com
Related Products 2XU Recovery Women's Compression Tights
If you grew up with a mom who wore jeans a size or two too small in order to keep her girlish figure well into post-pregnancy middle age, then you might've decided that her method was too similar to medieval... 2XU Elite Recovery Compression Tights - Women's
We've all heard the axiom about pain being weakness leaving the body. The implication is that pain is ultimately good for us and that we should embrace it as part of our form-building journey. But frankly,... 2XU Recovery Compression G2 Sock
After you finish a punishing 20-mile long run, grab your go-to junk food and a cold glass of water, then swap out your damp running socks for the 2XU Recovery Compression G2 Sock. Built specifically for...
---