Price search results for 2XU Performance Run Sleeve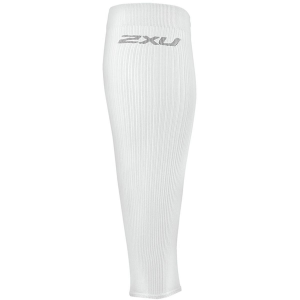 The benefits of compression garments like the 2XU Performance Run Sleeves are something of a hot topic in sports science these days, with some studies supporting the claimed benefits while the skeptical are left wondering if it's all just superstition. This divide is partly because of popular misunderstandings of what compression garments actually do, so bear with us while we walk through some of the myths and benefits of compression for endurance athletes. First, the big myth. It seems that the claims that compressive clothing limits the accrual of lactic acid put forth by some early studies are ultimately without merit. During a workout or race, compression helps in three ways. The first way is through increased blood circulation through compression that graduates up the legs in order to maintain a consistent flow of oxygen. This technique has been used in medical treatment for decades. The second benefit compression provides is that it literally buttresses-up your flagging muscles, reducing fatigue by reducing vibration and the need for muscles to self-stabilize. It may be helpful to compare compression to weight lifting. Lifting free weights vs. machine weights or using separate dumbbells instead of an Olympic bar forces your muscles to stabilize while lifting, adding an additional fatiguing element to the exercise. By reducing vibration and supporting the muscles during endurance runs and cycling, compression garments reduce similar fatigue and increase stamina. The final benefit is that compression supplements your body's proprioception. OK, buckle up, cuz it's science time. Many of our most basic, unconscious actions (like maintaining balance) rely on a network of proprioceptors in our bodies that, essentially, map our bodies' positions as we move through space -- hence the name proprioception or "sense of self." This map consists of coordinates relating to things like the length and tension of specific muscles and the changing angle of a joint in motion...
Best Price $25.97 from Backcountry.com
Related Products 2XU Compression Performance Run Socks - Men's
2XU is legendary for its compression clothing, and the cornerstone of its reputation is arguably the Compression Performance Run Socks. With a compressive fabric that enhances blood flow, reduces damaging...
2XU Elite Long-Sleeve Compression Top - Men's
When you're working to keep up a training plan through the winter, recovery matters just as much as it does in the summer. Instead of just relying on an ordinary baselayer when you're working out in the... 2XU Thermal Compression Top - Long-Sleeve - Men's
The advantages of muscle compression are no secret. We know how our bodies feel after a few hours in compression wear compared to the dark ages of old wives' remedies. So when it comes to staying warm...
---