Price search results for 2XU Hyoptik Thermal Compression Tight – Men's Your spring marathon will be here before you know it; whether you've qualified to prove yourself on the streets of Boston or are heading west for the seaside hills of Big Sur, you'll be logging miles all winter to prepare yourself. Make sure you're ready to stick to a rigorous training plan through cold, snowy weather by grabbing the 2XU Men's Hyoptik Thermal Compression Tight. Highly reflective accents pair with compressive fabric to stabilize your muscles and help you stay seen on the roads. A brushed thermal lining creates a lightweight, lofted layer of warmth next to your skin that encourages moisture transfer so you stay warm in sub-freezing temps, without overheating when you pick up the pace. Compression zones work to stabilize the major muscles of your legs to limit muscle oscillation, reducing fatigue and the likelihood of next-day soreness -- especially helpful for keeping you mobile the day after a long run.
Related Products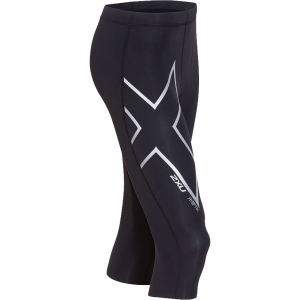 2XU Hyoptik Compression 3/4 Tight - Men's
Layer the 2XU Hyoptik Compression 3/4 Tight under a pair of shorts when you head out on a winter run to lend a little extra love to your hardworking muscles and stay visible on dark nights. This high-vis... 2XU Elite MCS Thermal Compression Tight - Women's
Cold evening runs always ask more of your joints and muscles than you expect. You dart out onto snowy roads after work eagerly, only to be taken aback by telltale aches arriving a few miles in. Instead... 2XU Hyoptik Compression Shorts
While they're providing compression to your muscles, the 2XU Hyoptik Compression Shorts will also make sure you stay visible to other road users as you train with the highly reflective graphics added to...
---