Price search results for 2XU A:1 Active Sleeveless Wetsuit – Men's Plenty of people believe otherwise, but the truth is you can get a fast, flexible, and buoyant wetsuit without having to spend half your life savings. With the 2XU A:1 Active Men's Wetsuit, you can get serious mobility, flotation, and comfort while still having money left over to invest in some new running shoes or component upgrades. Although it's priced significantly lower than 2XU's top-of-the-line V:3 and X:3 suits, the A:1 incorporates plenty of these expert-level suits' best details. It has the same 39-cell neoprene front panel, which boosts buoyancy to lift your chest out of the water, creating less drag and giving you a great DPS (distance per stroke). It also features the same chest velocity strakes, which help you track efficiently through the water and make side-to-side rotation easier for a more efficient stroke. Stretching around the hips is 2XU's rollbar, which lifts your hips to create a more "downhill" swimming motion and easier rolling, which makes for easier stroking and breathing. The back panel is seamless to reduce your drag coefficient, and the floating zipper panel is designed to provide stretch without catching and limiting your reach. The sleeveless design also allows unencumbered movement of the arms and shoulders, and the SCS coating on the legs provides a smooth, hydrodynamic surface for increased speed and decreased effort.
Best Price $175.47 from Backcountry.com
Related Products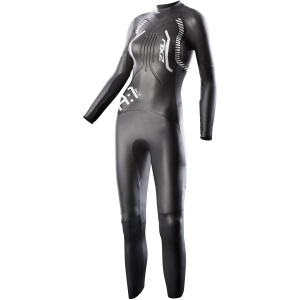 2XU A:1 Active Wetsuit - Women's
The 2XU A:1 Active Wetsuit falls near the lower price point of its wetsuits, yet it is designed with all the features of suits that cost twice as much. Top-tier neoprene and an array of body positioning... 2XU Compression Sleeveless Top - Men's
Whether you're looking for an edge in your next tri or hoping to get more out of your cross-training workouts, the 2XU Compression Sleeveless Top is a versatile way to add upper body compression into your... 2XU Active Tri Singlet - Men's
Your clothing plays a big part in your comfort during a race, but an effective kit doesn't have to come laden with tech and extra details. The 2XU Active Tri Singlet's design is simple and sleek, constructed...
---