Price search results for 100% iTrack Gloves The Ride 100% iTrack Gloves aren't quite as light and minimal as the barely-there Celiums the company makes, and for some riders, that's perfect. The mesh backing is slightly heavier and more protective than that of the Celiums, and the single-layer Clarino palm isn't quite as heavily perforated. You still get touchscreen compatibility, though, thanks to Ride 100%'s Tech Thread in the thumb and index finger tips. The iTracks also step up the materials with a pull-type cuff and tab, along with a 3mm-thick thumb overlay pad to protect this oft-overlooked area of your hand.
Related Products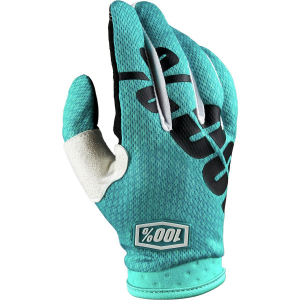 Look no further than the 100% Kids' iTrack Glove for the utmost in flexibility, bar feel, and tactile grip required for up-and-coming riders learning the basics of trail riding. The iTrack Glove features... The 100% AirMatic Gloves may sound like they feature some pneumatic technologies developed in the 1950s, but we promise, they're no more and no less than great all-around mountain bike gloves. While the... OK, so the Ride 100% Brisker Gloves aren't weightless, but you'll be pleasantly surprised by how light they are for how much warmth they afford. An insulated backing is the primary differentiator between...
---