Price search results for 100% Strata Goggles – Kids' Protect your little ripper's eyes as they gain confidence at high speeds with the Ride 100% Strata Jr. Goggles, which are designed with the same mix of style and function as the adult version but sized right for young riders. The design is simple: eye protection that stays in place using a silicon strap, with a urethane frame contoured for a wide field of vision on young riders' smaller faces. They'll be able to see out of an anti-fog, scratch-resistant Lexan lens that's prepared to take on a few bumps and spills, and the dual-layered face foam will keep your son or daughter comfortable enough in these lenses for them to beg for just a few more minutes on the trails at the end of the day. Proposition 65 Warning for California Consumers: This product contains chemicals known to the State of California to cause cancer and/or birth defects or other reproductive harm.
Related Products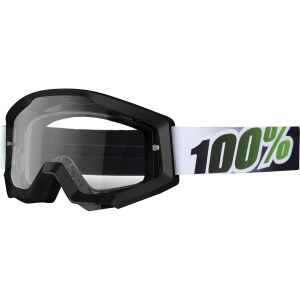 Like disc brakes and suspension, goggles are as essential to mountain biking as they are to motocross. But, all-too-often, mountain-bike-specific goggles overlook the importance of tear-offs. Thankfully,... Don't think you need goggles' Try center-punching that X-rated drop with a chunk of mud in one eye and a pine needle in the other. When the medics are scraping you off the ground at the bottom, spare a... Mountain bikers and moto riders share a good bit of DNA, and 100% made the Racecraft Goggles with that shared genome squarely in mind. Truthfully, the Racecraft pulls double duty as 100%'s top-shelf moto...
---