Price search results for 100% Ridecamp Glove – Men's You may not realize it, but your gloves are on the front lines of controlling your bike when you're raging down steep mountains on a perilously skinny trail. Look no further than the 100% Men's Ridecamp Glove for the very best in form-fitting comfort and tactile grip when mistakes are costly and control is everything. For greater convenience, the Ridecamp Glove features a touchscreen-compatible index finger for changing up tracks and answering calls on the trail. This ultra-thin glove forgoes unnecessary padding for greater tactile feedback and control, allowing you to turn the mountain into your personal playground. The glove's body of nylon and spandex provides optimal flexibility and the silicone printed palm commands bar grip when you're holding on for dear life on sketchy descents. Since it's for dedicated trail riders, the tailored cuff features an indentation that accommodates your sport watch, should you wear this glove while training for an upcoming race.
Related Products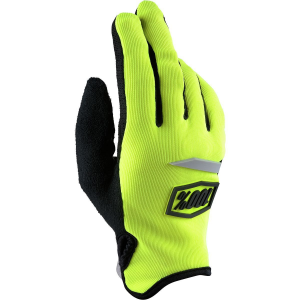 Replace your bulky, mismatched gloves with the streamlined 100% Ridecamp Glove this season and enjoy miles of precise shifts and lever throws on everything from brown pow, to mud, to moon dust. This versatile... Nonrestrictive and developed with the help of professional racers, the 100% Ridefit Glove is designed for both performance and comfort. A polymesh fabric at the back of the hand promotes airflow while... The 100% Kids' Airmatic Glove is an ideal glove for all-around trail riding and shuttle laps on the mountain pass with its breathable materials, tactile grip, and reinforced TPR knuckle details. The perforated...
---