100% RACECRAFT Goggles Mountain bikers and moto riders share a good bit of DNA, and 100% made the Racecraft Goggles with that shared genome squarely in mind. Truthfully, the Racecraft pulls double duty as 100%'s top-shelf moto and bike goggles, but that's just fine--after all, the demands are the same, so the face-sealing outriggers, face-hugging three-layer foam, and face-friendly co-molded urethane frame do the trick for both activities. Vents are built into the frame to fight off fog on soggy days at the bike park, and a removable nose guard protects your schnozz if you're leaving the lifts and full-face behind for a day of enduro mayhem. Catching mud pies and gravel to the face is often a given, especially when you're the follow-cam guy, so 100% ships the RACECRAFT with 20 clear tear-offs and a scratch-resistant Lexan lens, so you can ride hard without riding blindly into a trailside tree.Proposition 65 Warning for California Consumers: This product contains chemicals known to the State of California to cause cancer and/or birth defects or other reproductive harm.
Best Price: $65.00 from Backcountry.com
Related Products Don't think you need goggles' Try center-punching that X-rated drop with a chunk of mud in one eye and a pine needle in the other. When the medics are scraping you off the ground at the bottom, spare a...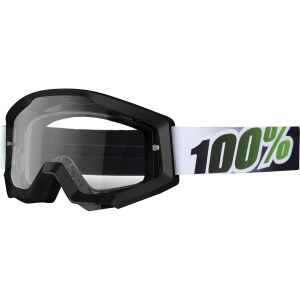 Like disc brakes and suspension, goggles are as essential to mountain biking as they are to motocross. But, all-too-often, mountain-bike-specific goggles overlook the importance of tear-offs. Thankfully,... The 100% Accuri Enduro Goggles share the same standard features as the Accuri model, only they come equipped with a dual-pane lens for the ultimate in protection and anti-fogging properties. And if you're...
---