Price search results for 100% Barstow Classic Goggles Snow goggles are made for snow, which is great, but wouldn't some dirt-specific goggles be a good idea when you're on your bike' 100% thought so, so it made the Barstow Classic Goggles just for dirt devils. The minimal frame design fits comfortably under full-faces, and the large upper vents push air through the lens to keep it fog-free when you're riding in foggy conditions. The triple-layer face foam forms a snug but comfortable seal around your face to keep the breeze and dust out of your eyes. The Barstow looks solid, too, with real leather, suede, and canvas trim, an embossed frame, and a metal snap that makes you look cool even when you're crashing down the hill on your old beater bike. Proposition 65 Warning for California Consumers: This product contains chemicals known to the State of California to cause cancer and/or birth defects or other reproductive harm.
Related Products Don't think you need goggles' Try center-punching that X-rated drop with a chunk of mud in one eye and a pine needle in the other. When the medics are scraping you off the ground at the bottom, spare a... Mountain bikers and moto riders share a good bit of DNA, and 100% made the Racecraft Goggles with that shared genome squarely in mind. Truthfully, the Racecraft pulls double duty as 100%'s top-shelf moto...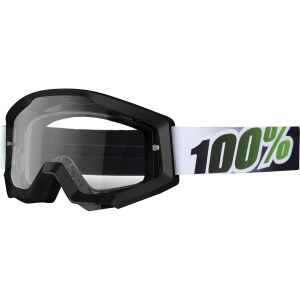 Like disc brakes and suspension, goggles are as essential to mountain biking as they are to motocross. But, all-too-often, mountain-bike-specific goggles overlook the importance of tear-offs. Thankfully,...
---