Price search results for 100% Aircraft MIPS Helmet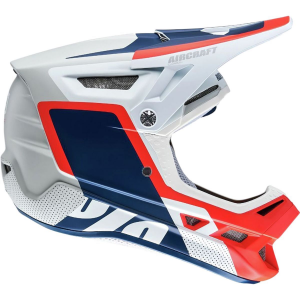 Send stomach-dropping lines that make you feel like your idols knowing your brain is protected with the 100% Aircraft MIPS Helmet. 100% took a leap into the helmet world with the original version of this helmet, and the goggle and accessory company shows it's committed to helmets for the long haul with this strong design, now featuring the added protection of MIPS. Drop in, and you'll barely feel the feathery Aircraft until you need it. Whether you're a fixture on the weekend race circuit around your local trails or are stepping up your DH game, the Aircraft's carbon and KEVLAR shell delivers time-saving lightness without a compromise in rigidity for the days when things don't go as planned. 100% wisely blends a material known for its unmatched weight loss with one renowned for toughness to create a shell that'll have you covered in a rock garden without dragging you down on everyday rides. Within that shell, 100% also carefully carved out a staggering 25 vents and air channels, which is no small feat in a full face helmet. This well-executed system establishes a consistent flow of air into and out of the shell so that you stay cool and dry on the stickiest mid-summer days without compromising the structural integrity of the helmet. Sitting inside those vents is another defining safety feature of the helmet. MIPS, or Multi Directional Impact Protection System, refers to a thin inner basket that rotates upon impact to absorb brain-damaging rotational energy created in certain crashes. The relatively new technology is just another way to help reduce your likelihood of serious head injuries, without affecting your day-to-day ride quality. Additionally, 100% took care to add features like breakaway cheek pads, an integrated compartment that eases compatibility with emergency release systems, and compatibility with neck braces, all features that put it on the same playing field as other high-end DH helmets. Of course, 100%'s emphasis on sleekness and low weight se...
Related Products The 100% Status Helmet borrows technology from its top-tier compatriot, the Aircraft, to deliver lightweight function at a cost that lets you drop in with some cash left in the bank to refuel at the end...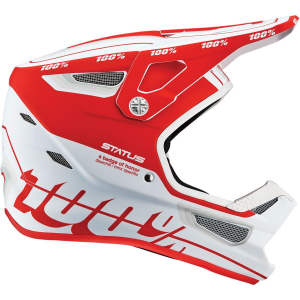 Your little ripper has mastered the trails and is begging you to take them out for some weekends on the lifts, so you'd better add a 100% Status Youth Helmet to the helmet collection so they can stay protected... The 100% Accuri Enduro Goggles share the same standard features as the Accuri model, only they come equipped with a dual-pane lens for the ultimate in protection and anti-fogging properties. And if you're...
---