Price search results for 100% Aircraft DH Helmet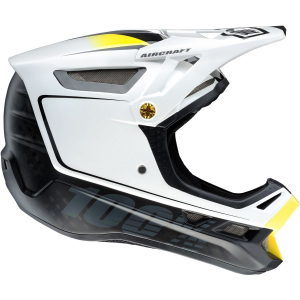 100% knows a few things about eye protection on the dirt track, but it cares about your gray matter too. Go bold and barrel into the tough stuff on your next ride with the protection of the 100% Aircraft DH Helmet. A full-face construction gives you coverage appropriate for lift-accessed rowdiness, while Carbon and KEVLAR work together to create an extremely light shell that you'll have to work pretty hard to dent during a high-speed spill. Reliable protection doesn't have to mean sweating it out in a helmet that completely seals you off from the outdoor world, so 100% designed the Aircraft DH to accommodate the 25 vents in its Active Cooling System. Without impacting the structural integrity of the helmet, the vents prevent your dome from overheating on warm days, while a plush liner adds comfort to the inside of the helmet. Even though it fights odor, the liner's fully washable too, so you can rinse out the sweat to keep it soft. Buckle up and secure the helmet with a durable titanium buckle, and ride with the reassurance that 100% included a compartment compatible with inflatable emergency release systems, as well cheek pads designed for easy release in the event of an emergency. If the day looks like it's going to get even rowdier, add a neck brace of your choice to your setup; the Aircraft DH works with most on the market.
Related Products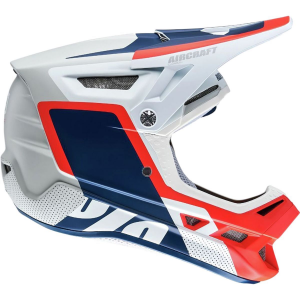 Send stomach-dropping lines that make you feel like your idols knowing your brain is protected with the 100% Aircraft MIPS Helmet. 100% took a leap into the helmet world with the original version of this... The 100% Status Helmet borrows technology from its top-tier compatriot, the Aircraft, to deliver lightweight function at a cost that lets you drop in with some cash left in the bank to refuel at the end...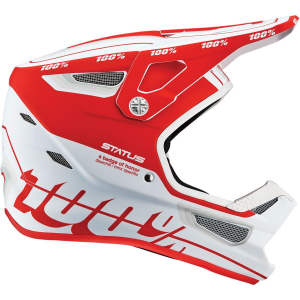 Your little ripper has mastered the trails and is begging you to take them out for some weekends on the lifts, so you'd better add a 100% Status Youth Helmet to the helmet collection so they can stay protected...
---