Trip:
Mt. Hood - Wy'East
Date:
12/2/2009
Trip Report:
TR on our trip up Wy'East on Wednesday. I didn't take notes and I'm bad with numbers, so any listed elevations are approximate.
This was my first "winter" or off-season climb, and the first climb away from South Side for all three of us, and it was a REALLY good one. Very long day, and a bit more exposure than I was expecting (not huge, just more than I was expecting), but overall a great day.
Started from the Lodge at 4 AM figuring the weather would stay cold enough for a safe climb and descent, and also hoping that some daylight would help us in route-finding on our first trip up this side of the mountain. We were right on both counts.
Quick progress to Silcox, and from what we'd read we figured we had two choices for getting across the White RIver to the base of the route. Cross down low (about 7000 feet) or up high (above 9000 feet, just under the cliffs). I think one was listed as better for early season and one as better for late season, but we didn't really know which of those December 2nd qualified as. We chose low, and were very glad we did. Cutting east from Silcox, and only slightly uphill, we were able to cross each drainage without issue, and getting across the White River that low was no problem, just crossing low-angle snowfields. We were prepared to rope up, but never saw the need. This was a time-consuming process, so 6 AM found us still under 7500 feet (I think). Later we could see the Upper White River and could see the crevasses we had avoided.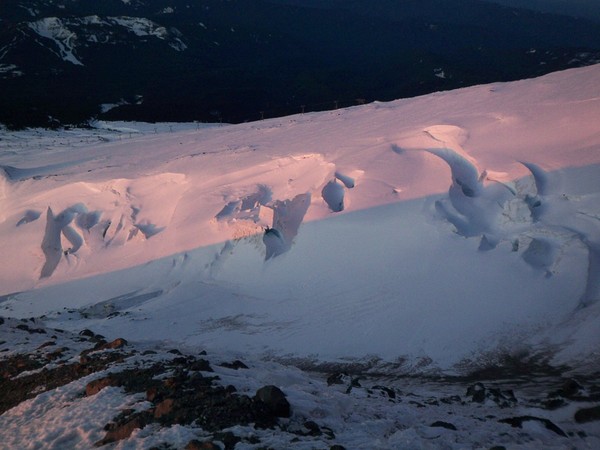 The full moon helped us find the correct snow field to get us up to the base of the climbing proper, and moonset was replaced by sunrise as we looked at the first section we had to think about.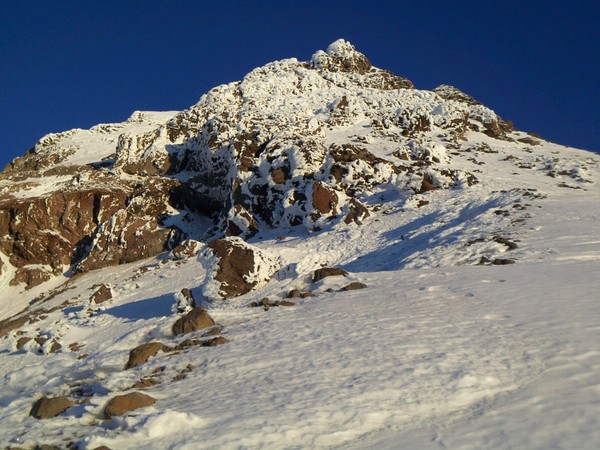 We wound our way up through the rocks then to the right, and took (I think) the second likely looking chute up to the left, which gained us the top of the Steel Cliffs. Coming up that chute: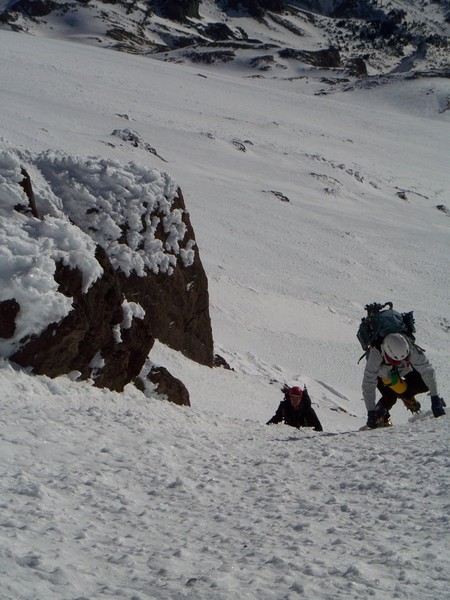 After this it was skirt the rocks, climb through some deeper snow, fall in a moat, skirt more rocks, fall in another moat, and eventually, after two wider snowfields, get up to the ridgeline proper above Steel Cliffs and Devil's Kitchen (is it called Devil's Kitchen, down between the cliffs and Hogsback?). From here we could see Hogsback, and most of the crater rim, but we were disheartened by how much we had left to go, and how difficult it looked (to me anyway).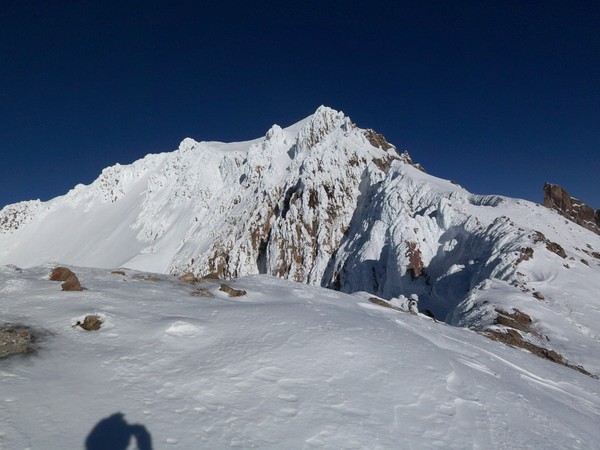 By now, we were past the point of no return. The sun had been hitting the lower route for a while by now, and we didn't want to down-climb what we'd come up, plus the sheer length of the approach made it much quicker and safer to head up and over. So we kept going, hugging the ridge line, through decent snow and more moats, until we got to this section (which luckily looks just like a picture we printed from summitpost showing a red line of the route).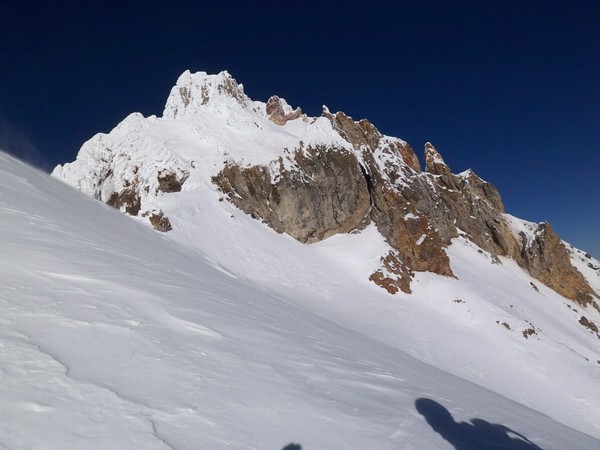 We headed up the ridge, staying on the snow, then had to traverse above those cliffs on what I considered pretty sketchy snow (two inch crust of bad ice over a foot of grainy, sugary snow). Before the traverse, we looked back at our route.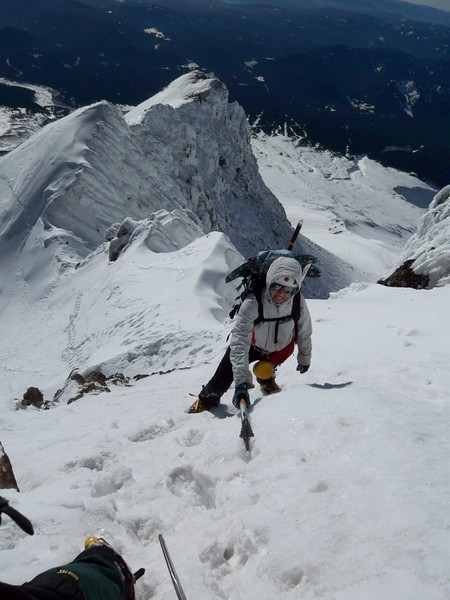 After the traverse, it was up and around the huge buttress into a nice couloir full of good snow, with another hundred feet or so of nice climbing up to the summit snowfields. Not too steep, but really fun climbing on good snow.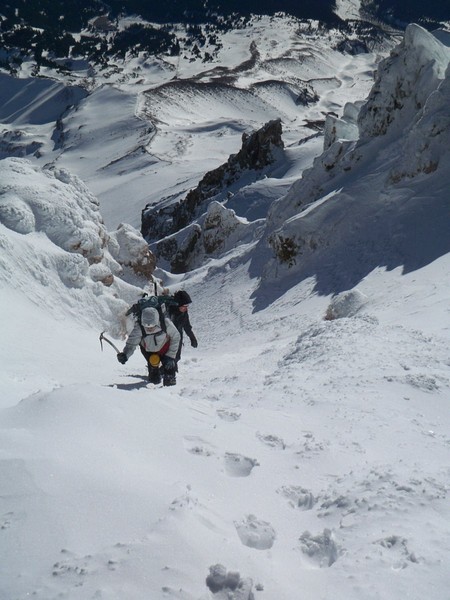 From there it was a couple short easy slopes to the top, and we were up at noon, under sunny skies and no wind. My first Hood summit with amazing weather, and on December 3rd! Pretty great. (Of course, I'd never been up there at noon before.) We enjoyed the sun for a little while, but figured we should get moving, since it was getting later. Two climbers coming up the South Side let us know that things still looked good and solid in the Old Chute, and in fact the snow over there was very nice. After descending about 200 feet on bootpack and solid snow, I was able to kick my own steps in styrofoam and then plunge step down to Hogsback. Looking back from Hogsback.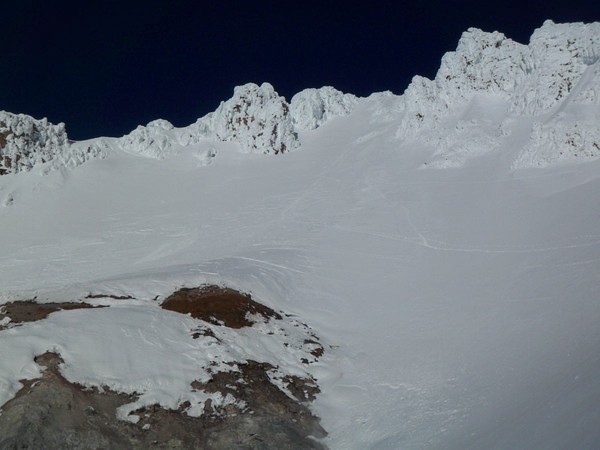 The walk back to Timby was punctuated by a failed attempt at downloading onto the Magic Mile lift and not much else. Man that walk sucks every time, but after what felt like our first "real" climb on Mt. Hood, we didn't have any complaints.
All photos courtesy of my climbing partner, Frank.
Gear Notes:
Carried two tools each but it wasn't solid enough to warrant both, in my opinion. We also carried some rope and gear, but on the only places possibly warranting protection, there would have been nowhere to place any.
Approach Notes:
Drive up Timberline Road. Park.