Trip:
Courtney Peak - North Face, FA?
Date:
7/2/2008
Trip Report:
On July 2nd of this year, Tasha MacIlveen and I climbed a new route on the north face of Courtney Peak in the Oval Lakes Wilderness. Courtney is part of a group of high peaks between the Twisp River Road and Lake Chelan, and the north face overlooks Middle Oval Lake. The face may or may not have been climbed before—please drop me a line if you have any information about the history.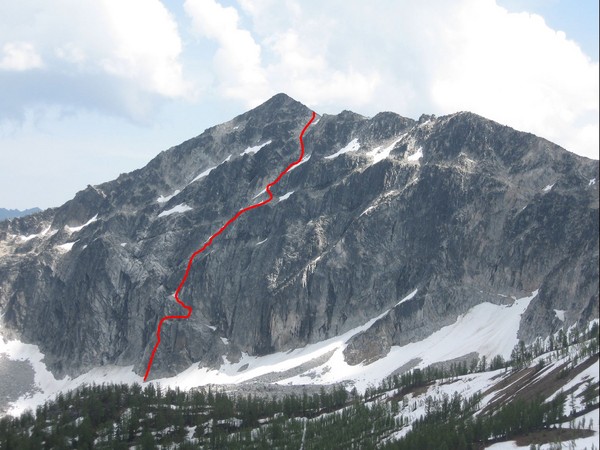 I knew of the face from having worked in the area with Outward Bound for a number of years. There's a good deal of salt-and-pepper granitic rock around Oval, Star, and Courtney peaks, and the shape of the face sort of recalls Dragontail in the Stuart range. A pure, continuously steep line was clearly not in the cards; the big snow ramps cutting across the wall suggested moderate terrain. It looked like fun, and I will admit that I was a little driven by the notion that it might be a first ascent.
We schlepped up the long trail from the Twisp river, hiding out in the afternoon from a thunderstorm. This part of the east slope can get into a regular daily cycle of electrical storms. Why go to the Rockies when you can be terrified right here in the Cascades? Our packs were big; we brought enough supplies to make a couple of attempts. The last half mile or so saw us wandering across the lingering snow toward a camp on the moraines below the face.
The forecast called for more scattered thunder showers, and we knew that our late start might cut the day short as a simple reconaissance. We set out with a comfortably large rack, a single rope, one ice hammer, and a handfull of pins.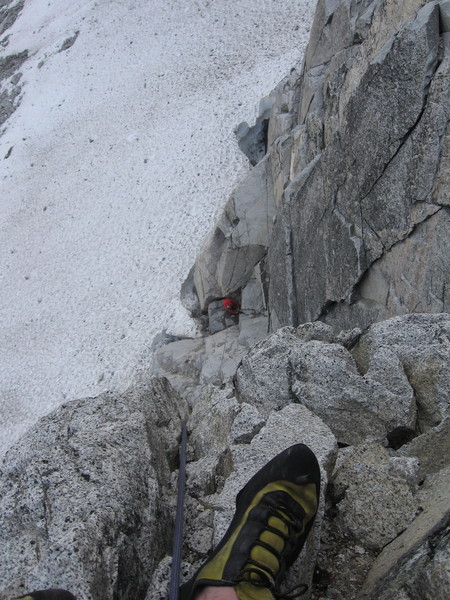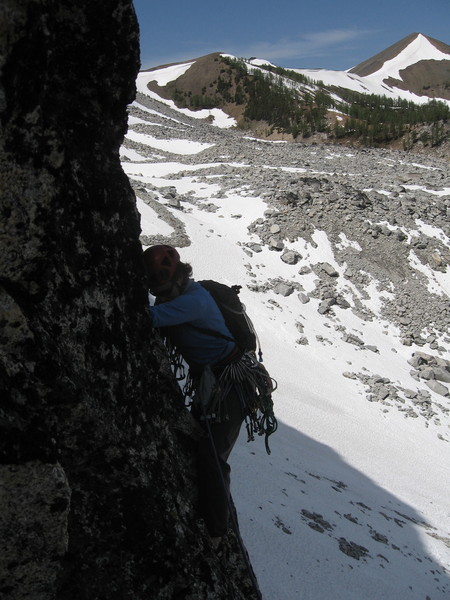 After some himming and hawing over the line to take, we chose the lowest toe of rock on the face. Several fun-looking arretes appeared as we got close, and it was essentially a coin-toss that decided us. The compact first pitch was a nice 5.7 warmup, a little run-out but fun. Tasha lead out and pulled some thin, 5.10 moves well above a green Alien. I arrived at a complex web of tiny gear she had managed to garden into the granite. We wondered out loud if this was really going to work, and thought of the ramp we should be hitting in a few pitches; it should offer an easy escape downward. I did a dirty mantle right off the belay, yarding shamelessly on a cam. Tasha followed it and called it 5.10, which made me feel like a big chicken.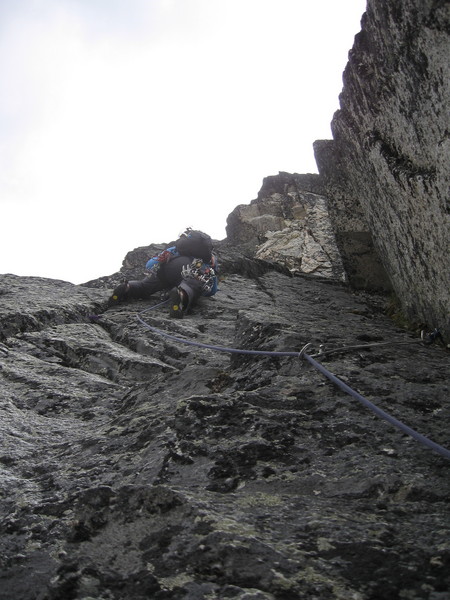 Another 5.8 pitch brought us to an impasse; upward looked hard and unprotectable. We tried left, no luck. Then rightward, we discovered a third-class ledge skirting away under a little mossy waterfall. I brought Tasha up onto the ramp we had been anticipating.
Exhilerated by the lower pitches, we looked anxiously at the sky. The clouds certainly had that look, and I knew we could count on some rain, thunder and lightning. But glancing at a picture of the face on the camera, we could see how far we had come. We agreed to continue, keeping in mind that if we could regain our present location, a quick scramble down a fourth class ramp would have us down on the sow.
We jogged up the ramp and I lead out up a beautiful piece of white granite, just to the right of a steep gully. Some wandering amongst dodgey flakes brought me onto lower angle terrain—easy but very compact and without the possibility of gear. I stretched the rope all the way out, barely reaching a decent belay terrace and a few thin cracks. The sky flashed as I clipped the first pin, and I could feel the rain coming as I drove the second. By the time Tasha reached me, the wind had picked up and Oval Peak lit up with purple forks of lightning.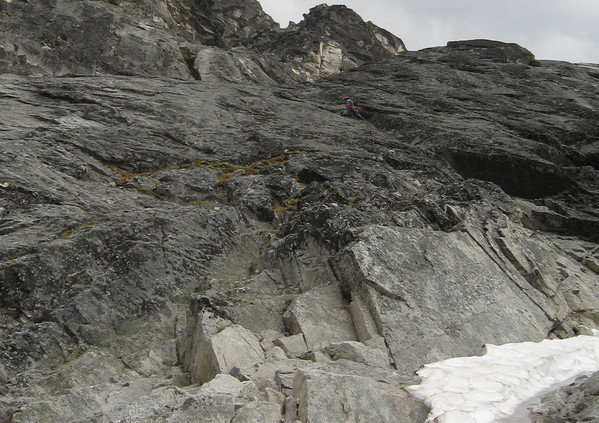 In retrospect, turning around would have been prudent, but the necessary discussion did not take place. Tasha scrambled up easy ground, then began searching for a way across a big bulge of compact rock. After much climbing, downclimbing, and backseat climbing from me, she found a delicate traverse leftward. This gained her a rib of lovely, greenish rock paralleling a snow gully to the left. I watched her climb smoothly and calmly while the sky above her exploded with bolt after bolt of lightning. The summit ridge of Courtney was getting hammered. She continued up the rib, climbing wet 5.8 moves with no pro for 100' until the rope got tight. I hollered and began simul-climbing. By the time I reached her belay, I was pretty wet. I whipped on coils of rope and we climbed together through steps of fourth and fifth, toward a little overhang I had spied from below. The storm reached its full, ridiculous strength while we huddled, clipped to a couple cams, under a half-hearted roof of granite. We tossed on the space blanket, nibbled sandwiches, and laughed. Stupid, stubborn climbers.
When the hail and rain was done, and when the lightning seemed to have moved along, we started up again. Simul-climbing up through a sea of loose blocks, winding up through depressions toward the summit ridge. Tasha glowed with sunlight against the black clouds in the distance. A short scamper up the blocky ridge yielded the summit.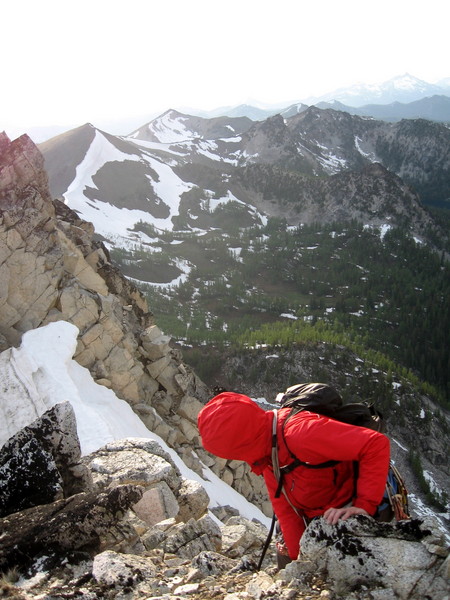 We sauntered back to camp down the west ridge, delighted with our adventure in the wild Cascades.
North Face of Courtney Peak, III, 5.10, 1,200'