Trip:
Colchuck Balanced Rock - FA: The Tempest Wall IV 5.10 A2
Date:
8/28/2008
Trip Report:
In order to be a succesful climber in the Pacific Northwest you have to be able to adapt. Plans set in stone for weeks, even months, can be shut down at the last minute with alarming regularity; fickle cascade weather being the main culprit. Such was the case last week as the slowly increasing chance of precipitation crescendo'd at 4 in the afternoon with 100%. Our second attempt at a large north cascades project would have to be postponed, and we were back to the drawing board. Worse yet, blake could ditch me completely and head out on an extended trip amongst clearer horizons in the Idaho Sawtooths.
The Enchantments were are best bet and i had to think fast. The Google chat box quickly filled with ideas for the range: Boving Route to Solid Gold, the Girth, Der Sportsman. Blake shut each one down. I was scrambling for ideas when he replied: new route on CBR? i saw a line to the right. It was on, and i was hyped.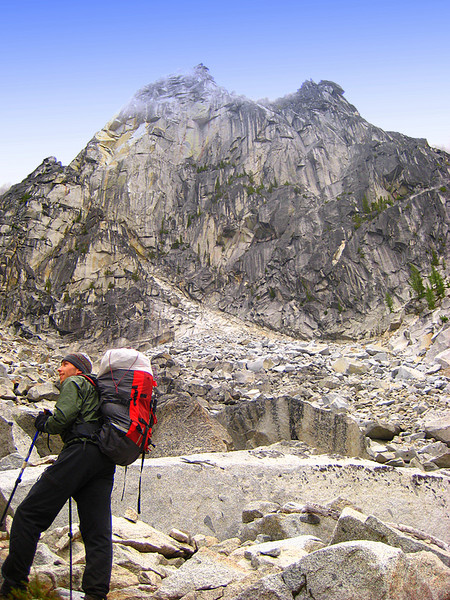 He claimed thin cracks through headwalls, aid for sure, so we brought the kit and caboodle. The approach was more comical than usual, quite cold, and a bit stormy. The first day we scoped things out, found a line, and fixed the first pitch. Blake threw down a mix of mostly free with a bit of aid, a badass heel-hook, and even placed a knifeblade while free climbing.
Pitch 1: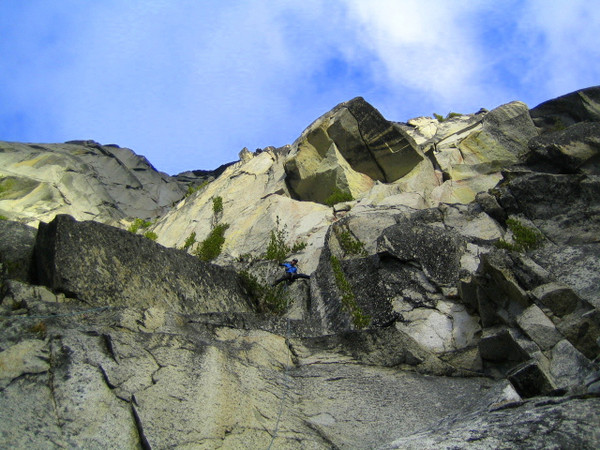 We went to bed that night a bit intimidated by our chosen line. The next day we woke up early to a brisk morning and numerous cups of coffee.
I taught Blake how to jug on pitch 1: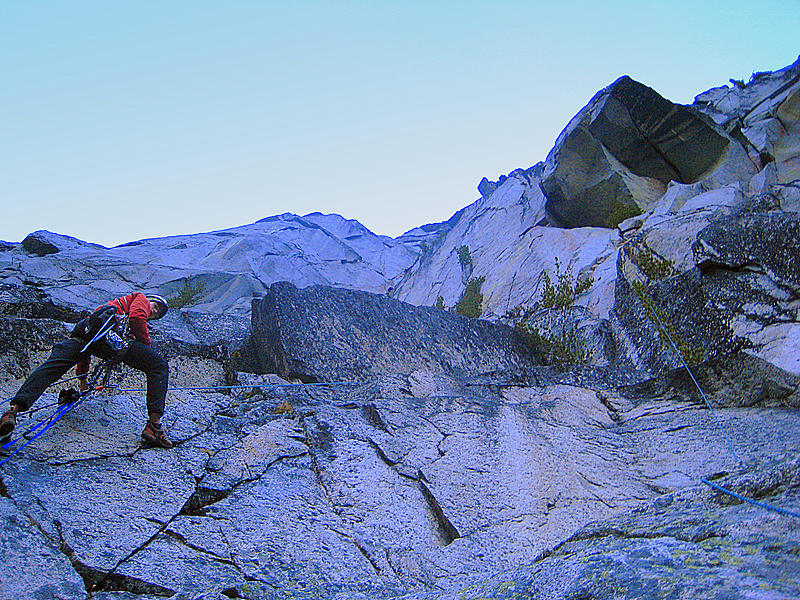 The weather was worse than the day before, clouds were blowing through, and we were being hit by intermittent mist and drizzle. At least we'd be dry under here: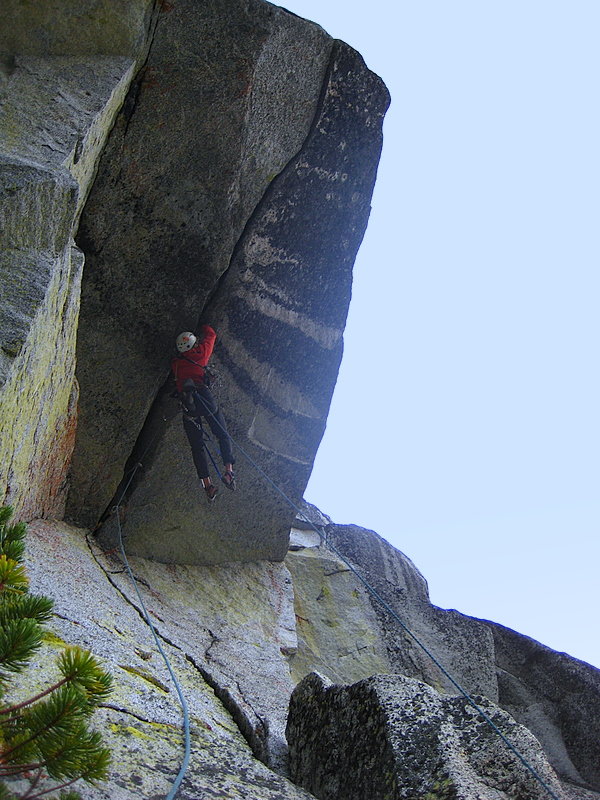 What really can i say about the roof. The lead felt like I was in a trance. Did it take me 20 minutes, or 2 hours? I had to stop at the base and ask myself if I really was going to do this. The problem being, enough gear to get me to where? In the end it worked out fine, and yes, I think it will go free, it's mostly gold camalots!
Colchuck Reality Crack.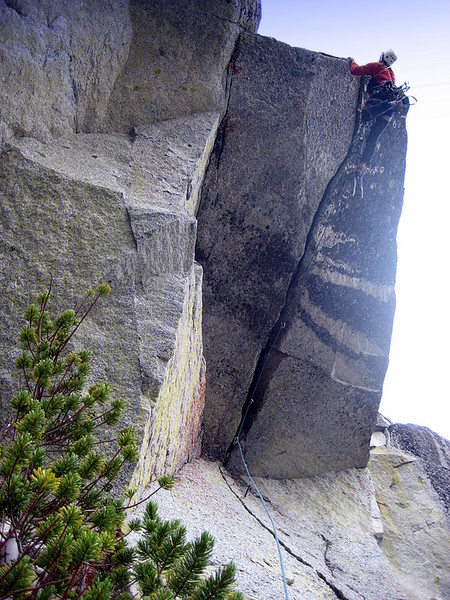 Cilogear!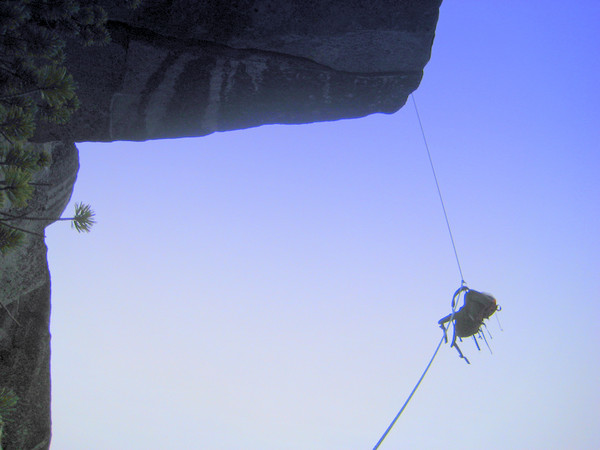 Being that it was all the same size i had to backclean our two two's out the last half of the roof and then all the way up to the belay. I tagged them to Blake and he embarked on his first real aid pitch ever.
Self-portrait of Blake enjoying a steep learning curve: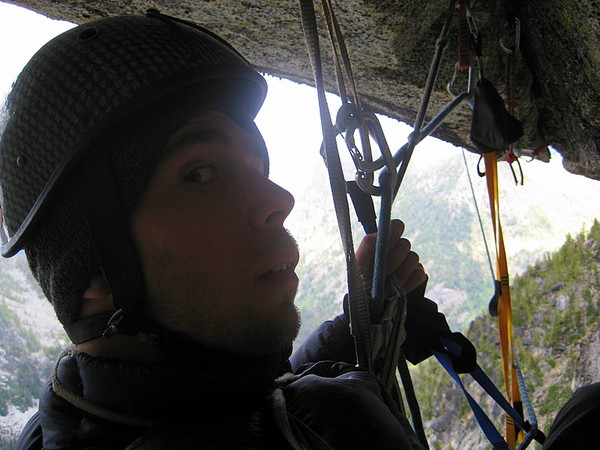 We named the ledge atop the roof the "yin-yang ledge", and the next pitch which starts with the more moderate aspect of the roof crack, "The Lighter Side of the Moon." Fun free climbing up good dirty cracks.
Blake starting out: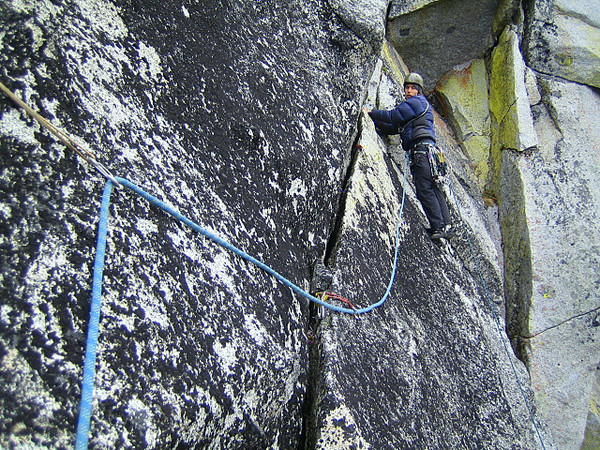 Myself seconding: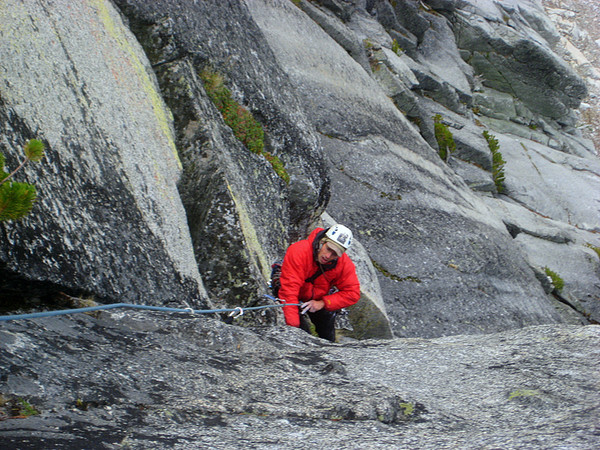 An easy 5th class pitch led us to the base of the headwall which began with akward free up a pillar then onto the face. It soon turned to aid up a series of dirty corners and roofs.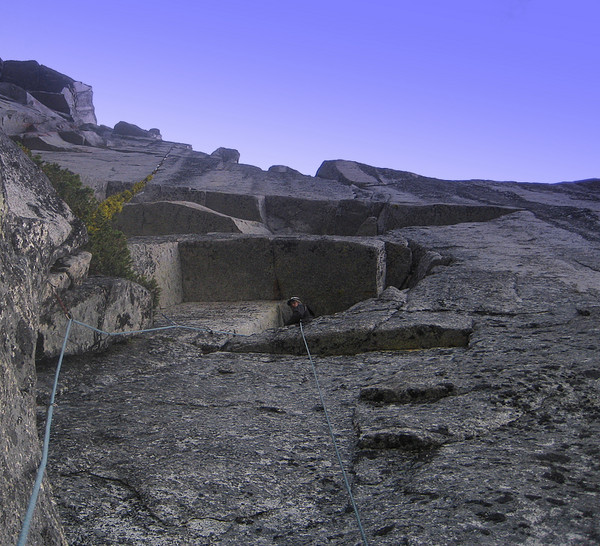 I short fixed a couple belays when the ropedrag got bad or i needed gear. The finale involved an aesthetic set of triple cracks and brought me to a great stance ontop of the headwall.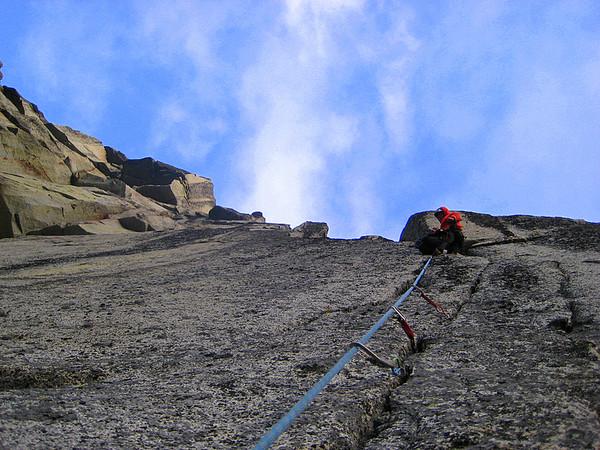 I was stoked to give up the lead up to this aid gumby: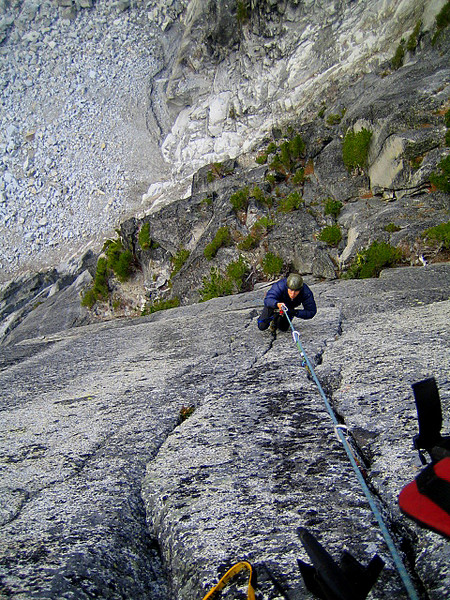 Actually Blake was doing a great job his first day out aid climbing and he pushed us on up the next pitch. Aid through a flare lead to a fun moderate corner crack and a slightly sketchy belay.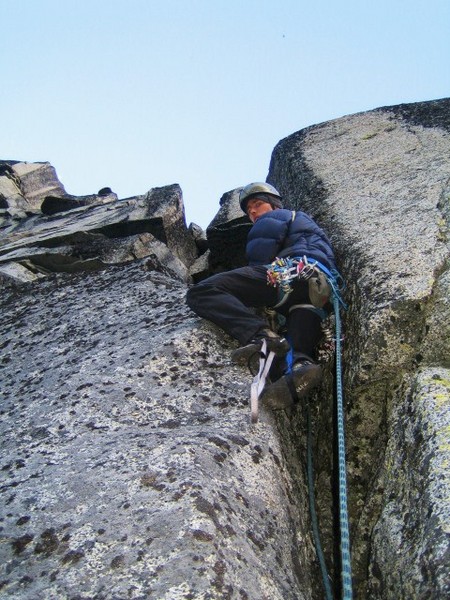 Darkness fell as I seconded, and i quickly remedied Blake's nest with a solid angle that we fixed. We could tell we where near the top and we really wanted to be off the face. The day had been cold and long and we were getting pretty worked. Aid led up to a dirty wet corner, a heelhook mantle, then a short chimney put me on the ridge, "The Great Escape."
I hooted and hollered and then Blake did too. Three simul pitches got us to top and the Tempest Wall was sent.
A moderatly painful morning-after was tempered by the idyllic alpine ambience.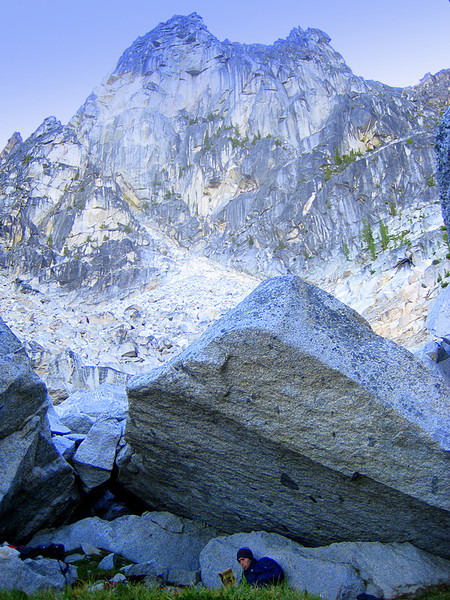 The Tempest Wall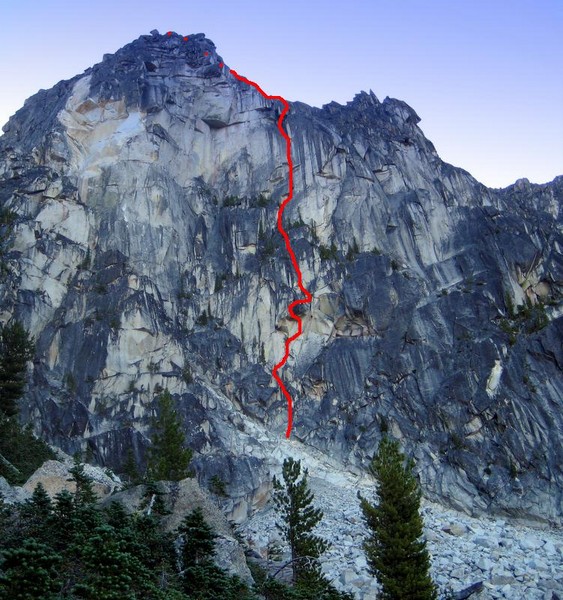 With a scrub, everything but the roof will proabaly go free at 5.11-.
I think the roof will go somewhere around 12c or so. It'll be one hell of a fight at the lip.
Rack of doubles from black alien to .75, 3 #1's, 4-6 #2's, 2 #3's, a single #4, set of nuts, dbl set of rp's, few pins or not.