Trip:
Liberty Bell - Independence Route V 5.11 A3
Date:
7/17/2008
Trip Report:
On thursday July 17th Jens Holsten and I teamed up again, this time heading north to the idyllic spires of Washington Pass. Jens has been pondering this proud route up the east face of liberty bell for a while, while I had never even heard of it. The plan was a free attempt, so we brought a bit too much crap, including a hammer, pins, and scrub brushes. The climbing was brilliant, up to pitch 7 the rock was high-quality, and overall the route was hard, thin, and sustained. If anyone wants specific beta, PM me and i'll do my best. But on the 5.11 and crux 5.12 pitch's, one should be ready for hard off-balancy climbing, hard-fought thin gear, and runouts on questionable fixed pins. There are many fixed pins missing from beckey's topos, just so you know..
The proud east faces of the spires: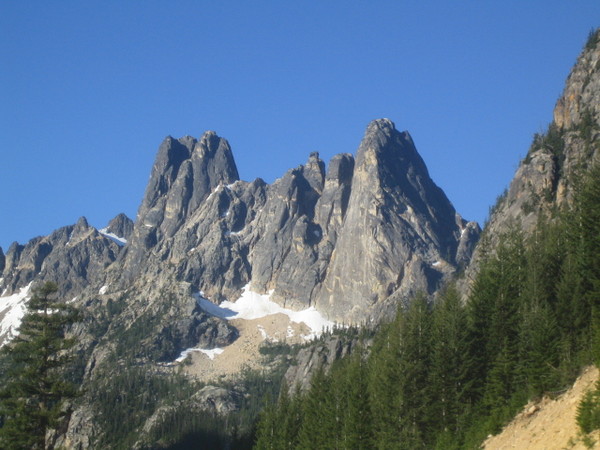 The route from near the base, it heads left to the clean white streaks, and then tackles the myriad of roofs (baer ceiling, cascade ceiling, and well-hung ceiling) on the right: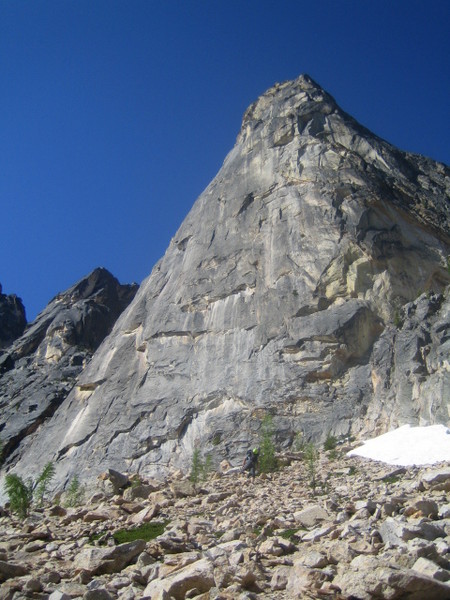 Pitch 1, 5.8:
Jens topping out on quality face climbing, Pitch 3, 5.10d: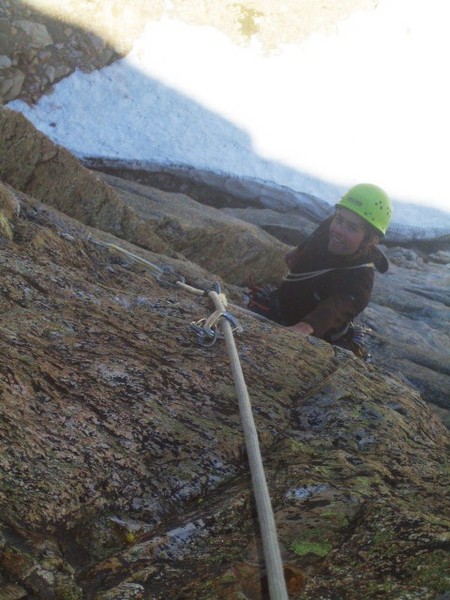 Jens at the belay after an on-sight attempt of the 5.12 crux pitch (nice try bro!):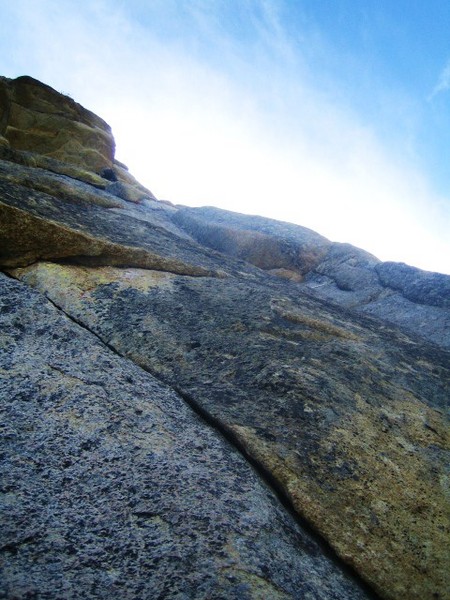 The pictures don't really do this pitch justice.
There's a wild sideways dyno to and tree and then it's heady.
Anyhoo, we still had the chance of bailing after the crux pitch. But jens was feeling the stoke so we climbed on. The sun began to set, the full moon was a rising, and we took every wrong turn on the "easy" upper part of the route that we could. We eventually topped out, prolly around 11 PM, lamped on the summit for a while, and hiked back to the car in the amazing moon-lit ambience of Washington Pass.
Gear: Thin to win. Doubles to #2, single #3 and #4. At least triples of blue alien and purple tcu size, RP's including 2-3 blue HB brassies. Double ropes.