Trip:
Les Cornes - Springbok Arete
Date:
8/1/2007
Trip Report: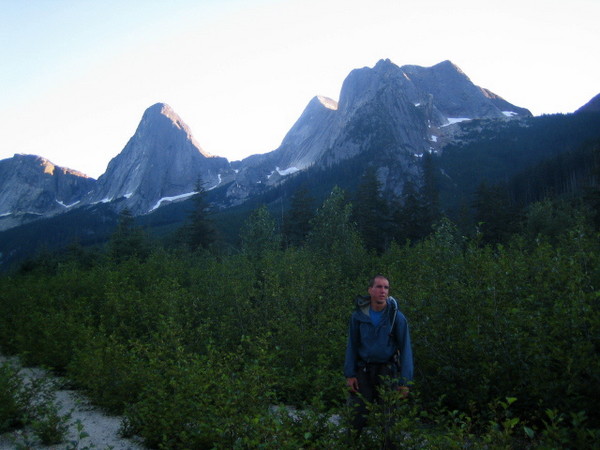 Last week we climbed the celebrated Sprinbok Arete in the Anderson River Valley of BC. What a route! It was my second attempt after adventureboy and I failed to even find the river valley last year. We left bham in the early afternoon on wednesday figuring to have plenty of time to make the approach and bivy near the base. Unfortunatly it was like a waking re-occuring nightmare, and we spent many hours wandering around on the wrong logging roads, lost, trying to make sense of it all. Luckily it all came together, and we made it to the roadside, bug-infested bivy around sunset, intent on now climbing car to car.
A 5 am start saw us alder-ing our way up to the base which wasn't nearly as bad as others have made it sound. A little schwacky but its short, there is a path to follow, and you gain very little elevation.
The Arete from the base: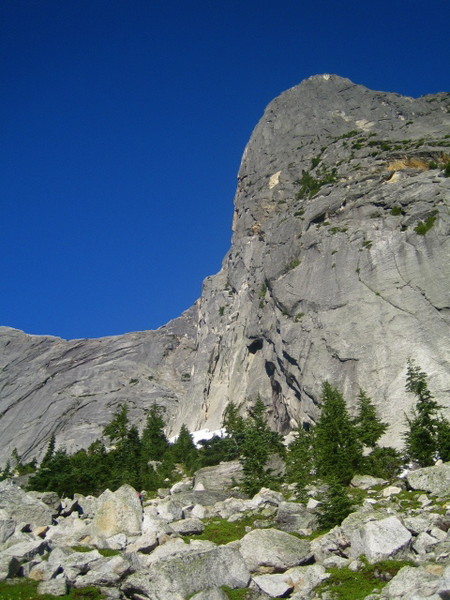 I started us off on the first block. Four mediocre pitches and a bit of simul-climbing brought us to the base of the fierce fingercrack of pitch 7 (McLane), where we swapped blocks.
Scenic: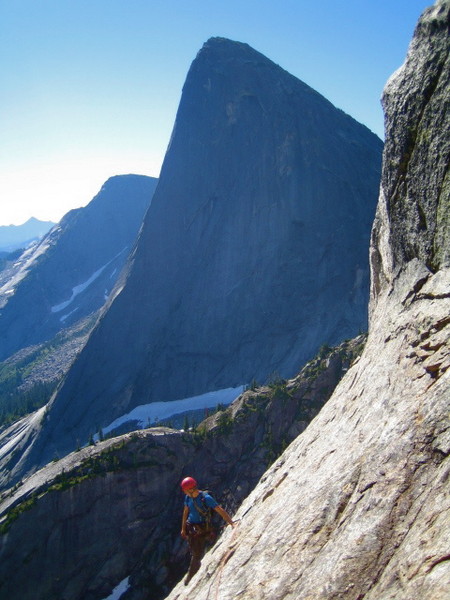 Tyree lead on up the hard 5.9 fingercrack and the off-width, but whoops, ended up on the wrong wide crack. We climbed a clean long off-width to the right of where we were supposed to be. After fucking around for a little bit we rapped off a nut back to the route. Ty smoked the orange head wall pitch hooting and hollering, having a good ol' time.
Awesome and steep. Flakes, fists, and hands: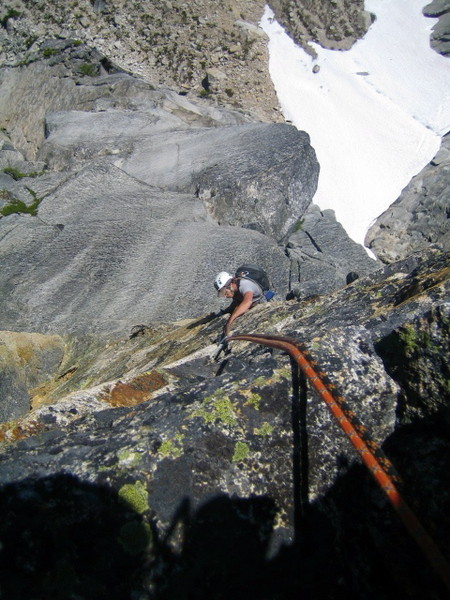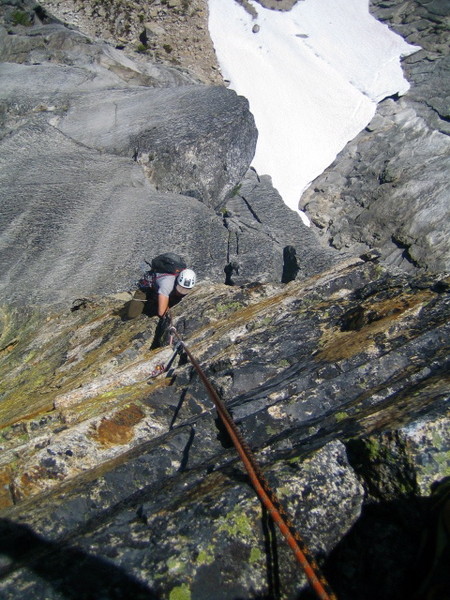 The quality of the rock kept on improving as we continued on via a fun flake traverse. I took over for the 10c fingercrack, and the immaculate 5.9 layback and elegant slab above.
Quality: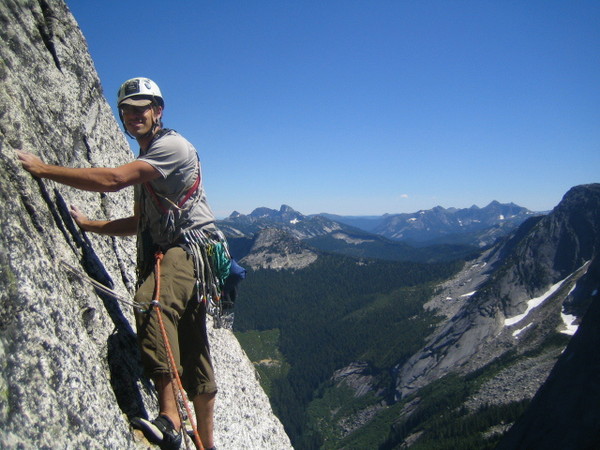 Ty took us to the summit from there via never-ending finger locks. A quick pound and we moved on to the au cheval.
"Gut-churning"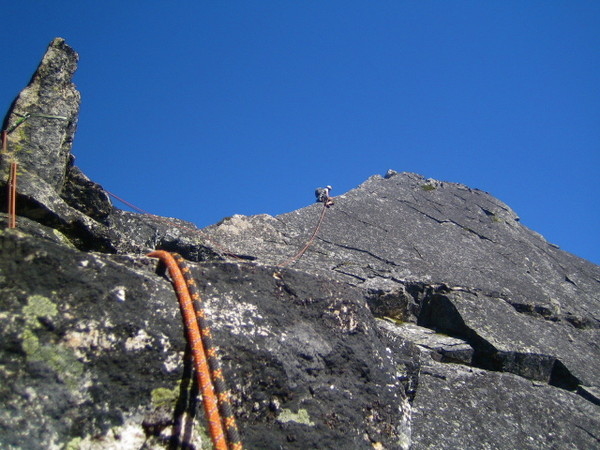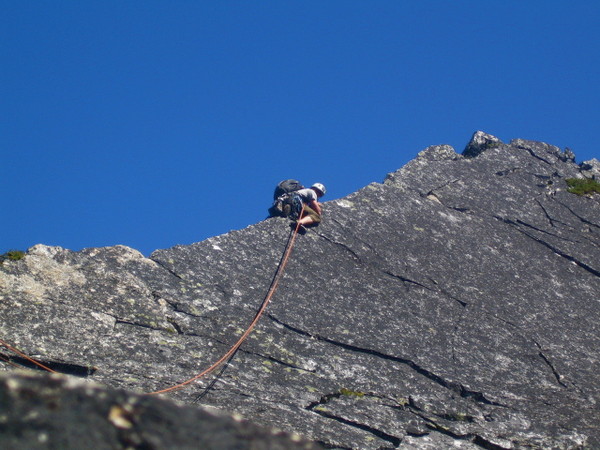 Compared to Gato Negro the descent was casual. The worst rap was prolly the first one. And the running water was well appreciated. 4 raps and some downclimbing brought us back to the base. Overall we did the route in 10 pitches with some simulclimbing. Car to car in 15 hours. Its the best route i've climbed in BC and lies somewhere in my top 5 favorite alpine rock routes. The grades are nice and stout. Highly recommended.
Because you can never get enough Steinbok: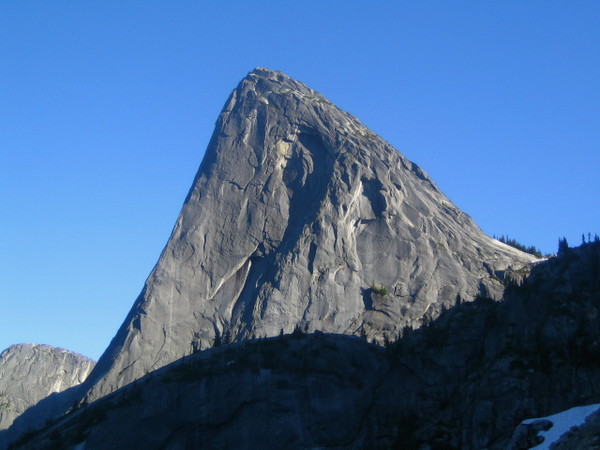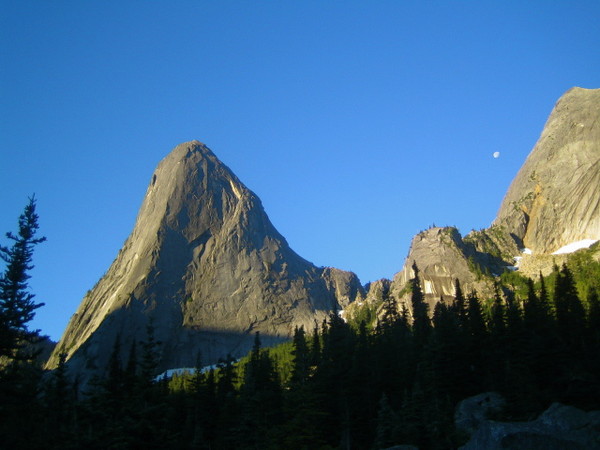 Gear Notes:
Twin 60's. Rack of doubles to #2, singles through new #5. Couple RP's.
Approach Notes:
Dont ask me.