Trip:
Mt. Stuart - Girth Pillar via lower N Ridge
Date:
7/27/2007
Trip Report:
A couple days ago, Kevin N. and I found this route in great shape. Seems a bit has been written here before; I'll echo the general sentiment that the Pillar features some of the finest rock climbing in the Cascades. 3 pitches of steep, sustained, and thought-provoking climbing in stupendous position--words and pictures fail. Go climb it.
Left Mountaineers Cr to climb the lower N Ridge (fun rock by itself), then gained the Ice Cliff Gl above the calving seracs. Surmounted minor firn/neve difficulties to make good time to the pillar (hit the base of the business mid-morning, and Stuart greeted us w/ an impressive clamor of snow shedding from the NE Face slabs). I drew the first pitch, which had negligible wetness, fun moves and a good wake-up call for the steepness above. Kevin sent the p.2 crux on-sight, and I followed cleanly--we were
stoked
. The third and last pillar-pitch rocks--high mountain woody time.
The Sherpa Glacier descent is probably past its prime, but we had the glacier gear along, and 'twas nice to get our dried husks out of the sun. Currently the descent--fairly technical with hard snow and loose rock--was probably more taxing for me than the ascent (fatigue?). Rapped once to clear a 'shrund, burning some of our booty. (We netted 8 stoppers and 2 'biners, one a bitchin'...
neutrino
! On the Girth Pillar! Imagine that.)
I'd be curious if anybody can corroborate AlpineDave's posting in another thread:
" I'm surprised no one has mentioned rapping one of the buttresses further East from the Sherpa glacier. I've read a report of people climbing close to the base of the West Ridge of Sherpa, and then rapping down to the basin below. Sounded pretty strait forward, with maybe 8-10 single rope rapps at existing stations. "
I've not done the NW Buttress descent, but am casting about for the best option this time of year. The Teanaway/Ingall's approach would've been WAY hot late last week, and didn't fit well w/ our plans.
We didn't see any humans on the N side. For several hours during the climb, a hummingbird accompanied us with its sound effects--cool. Hiked down in the cool of the early evening. Encountered a porcupine, and a beautiful, resident buck both on way up and down. On the wildlife topic, the friendly bugs also embraced us with open mandibles and proboscises, always spurring action.
Arrived in der hamlet w/ a flat tire to fix, just past kitchen closings. Contented w/ the Champagne of Beers and chips for the tired drive home. Kevin passed out in the passenger seat; I only passed out once (Chevy Chase style), luckily while stopped at a Monroe traffic light.
Some pics, a few more in the gallery:
leaving rock for the glacier: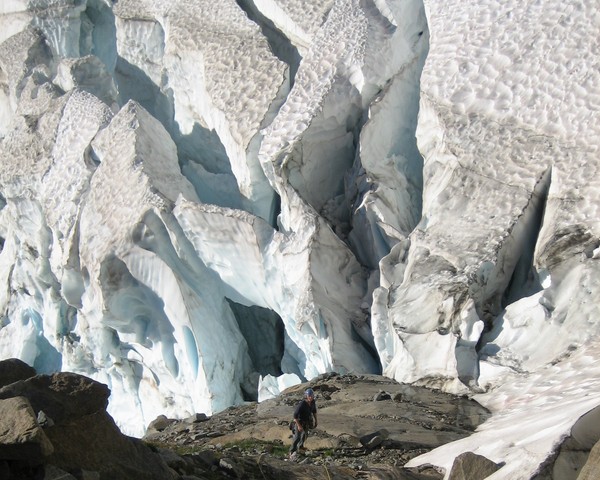 step of vertical snow: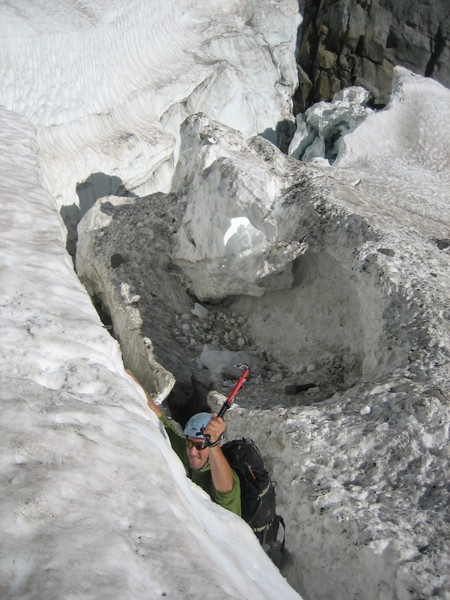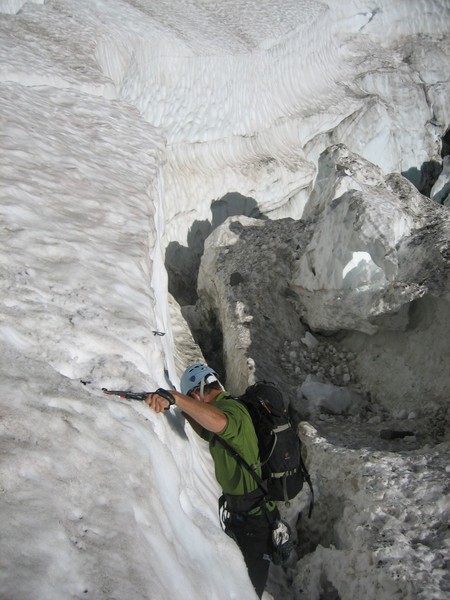 Pillar shots were challenging, with sunlit glaciers and shadowed climbers. You photog's out there please chime in w/ advice on how to get a good shot in these conditions, sans flash.
One attempt yielded an impressionistic result--the blur appropriately connoting K's speed (and steeze):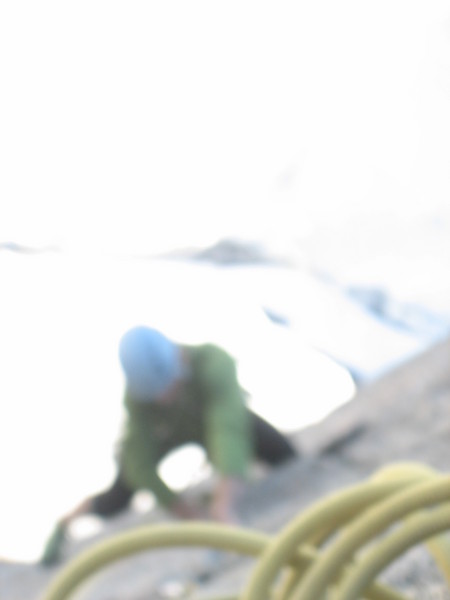 K following p1: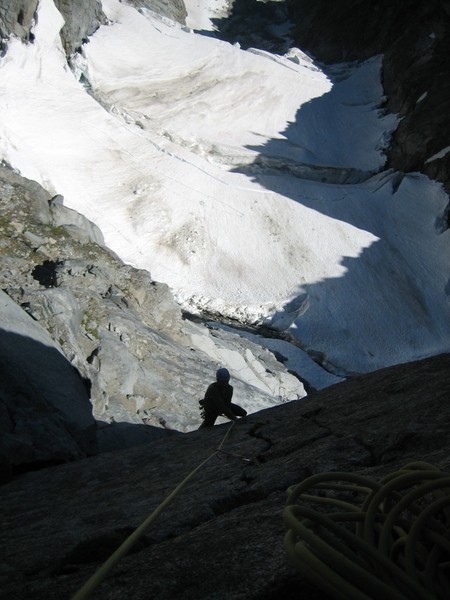 This pic's for the special edifier (caption = "not exit 38"):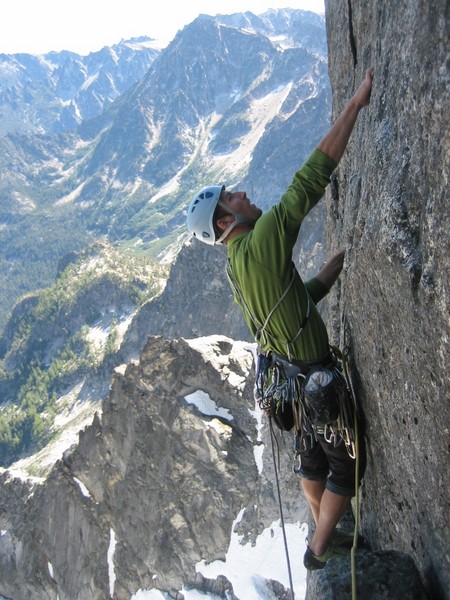 sendbot: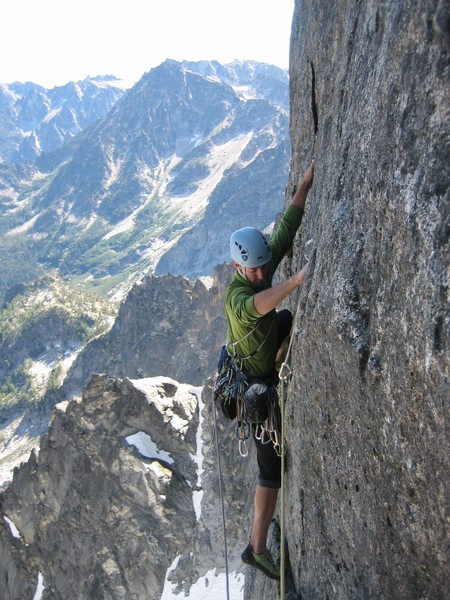 a more chill portion of the descent: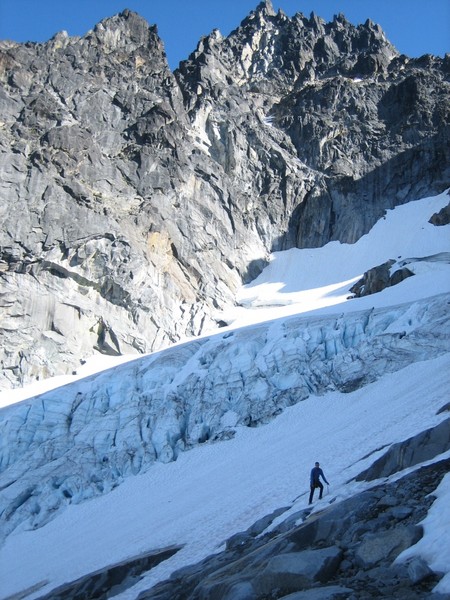 go that way: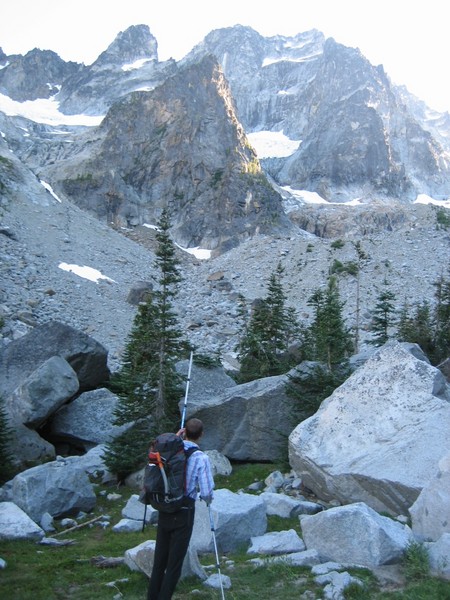 Gear Notes:
medium large rack was good to have.