Trip:
Mighty Tooth - S.F.B.B
Date:
6/30/2007
Trip Report:
Having recently joined the ranks of Fatherhood, I find my forays in the mountains infrequent at best. So this past Saturday, when a bit of free time coincided with a weather window, I knew I had to exploit it by attempting the Mighty Tooth! I approached my usual partner with this bold idea, and he belched his agreement. Standing just over three inches tall, this portly fellow lives in our fridge and refers to himself as Beer Troll. He actually hails from a proud ancestry of Norwegien Beer Trolls, though the family name has deteriorated in recent years.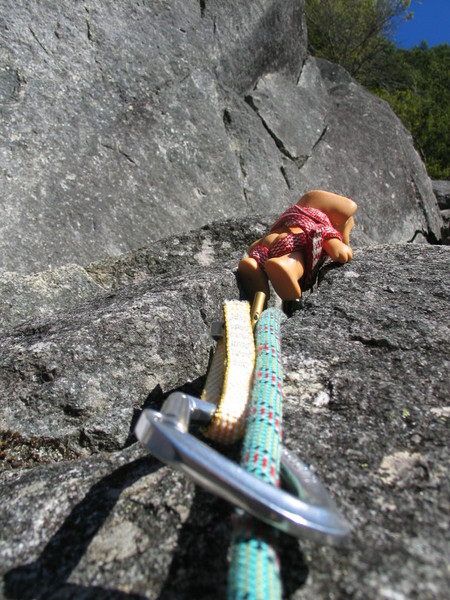 Beer Troll on lead, Great Northern Slab, Index.
I went to bed Friday with the usual butterflies, but what really kept me up was the barely audible din coming from the kitchen. I knew then that Beer Troll had got into my Alaskan Amber, and that he would be less than refreshed when I woke him in a few short hours.
Sure enough, when I opened the fridge at 4:00am, he was naked as a plucked turkey, and surrounded by several half emptied bottles of his favorite brew. After a brief tongue-lashing, I tossed him in the car, and we were off! He demanded we get coffee and pastries on the way to Alpental, and when we finally arrived at the empty trailhead he announced he would not be joining me on the climb. He cited a searing hangover and generally lethargy as his reasons, but I was unconvinced. After much threatening, humiliation, and general abuse, he finally agreed to "come for a little ways".
We loaded up our fanny packs, synchronized our watches, and started jogging away just before 6:00am. The trail went quickly, though the gasping and wheezing coming from somewhere behind me became louder and louder, until Beer Troll finally collapsed upon reaching the slopes above Source Lake. He dramatically announced his highpoint, and said he would meet me back at the car. But fearing a wild snaffle may find him first,
I decided to make room for him in my already stuffed fanny pack.
The snow above Source Lake was nice and firm, and despite the extra weight in my pack I still made it to the base of the South Face in good time. Upon hearing voices above, I threw out my half-hearted plans to do the climb nude, but enjoyed myself nonetheless. The descent involved much slipped and sliding, but we still made it back to the trailhead in just under two hours round trip, 1:57:20.
In all seriousness, two weeks ago I ran up the Mighty Tooth with Mark Bunker, and we both round-tripped it in a little over two hours. I pared my gear down, got in some good training runs, and watched my food and beverage intake (much to Beer Troll's dismay) this past week, and I was stoked to get it done this time in less than two hours.