Trip:
Wallaby Peak-Kangaroo Ridge - West Ridge
Date:
6/23/2007
Trip Report:
The original plan was to go climb Kangaroo Temple. Teresa and I set out from Lynnwood at 0530, and were parked at the hairpin curve below Washington Pass a little after 0800. We started hiking up to Kangaroo pass. The entire way is still snow, with lots of water coming down. We didn't think that there would be this much snow and only had out tennis shoes on. We reached the pass and according to Becky, we were to traverse along the slabs of Wallaby Peak. I read this as climbing up the ridge aways, then traversing over.
We hiked up the ridge for a bit, then realized that we were off-route. The correct way to appraoch Kangaroo Temple is to drop down the south side of Kangaroo Pass, and travere low, below all the rocks and cliffs.
Being we already spent a bit of time climbing the ridge, we decided to forgo backtracking and just to scramble up to the top of Wallaby. We dropped our packs and scambered up the ridge. It was easy until the last 200 feet, when I hit a very steep snow coulor. The rock on the edge was too steep to climb, so I held onto the rock with my right left hand, and kicked in steps with my tennis shoes, and dug my right hand into the snow as well. It was a very cold 200 feet, but then I reached the bare summit.
What views!! I found the summit register, and only about 20 people climb this mountain a year. After taking in the sights, I went back down, downclimbing the snow (and again freezing my hands and feet)until I got onto the rocky ridge. From there it was a quick down to our packs, where a curious mountain goat was eying them. We eyed him for a while, and he scampered off.
Next time we will do Kangaroo Temple, now that we know how to get there.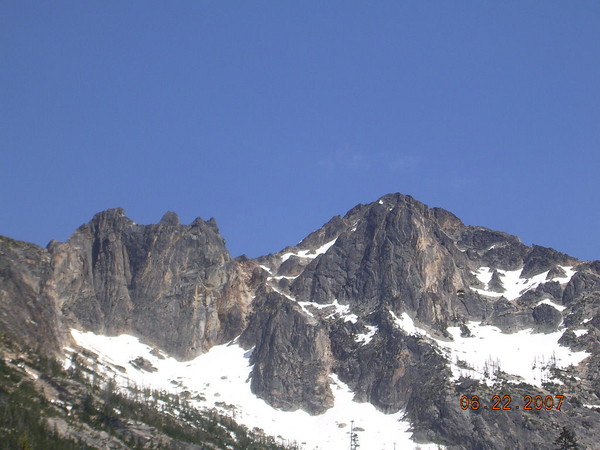 Kangaroo ridge from parking lot. The right-hand highest peak is Wallaby. Kangaroo Temple is beyond it and not visible.
]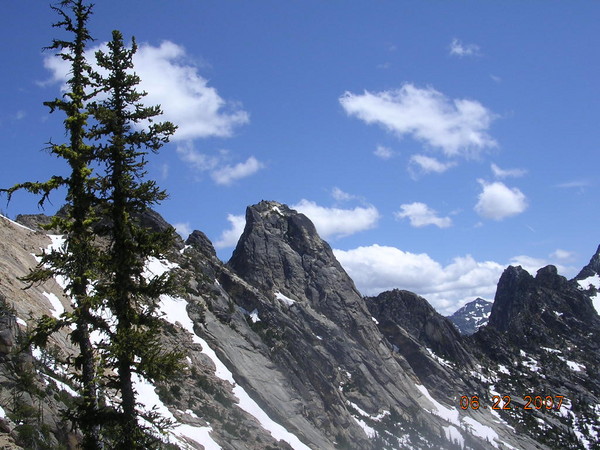 Kangaroo Temple from Kangaroo pass.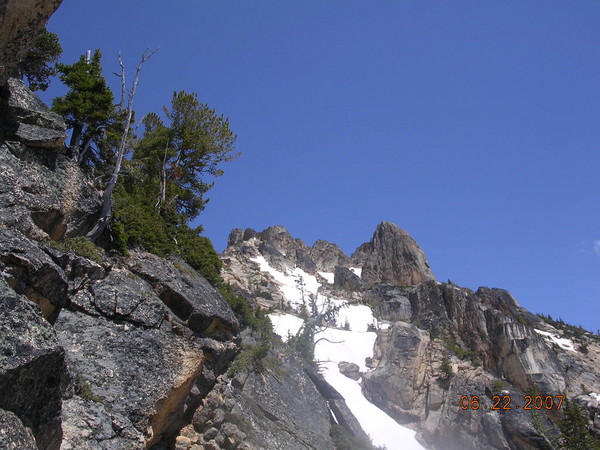 Wallaby peak from Kangaroo Pass. The peak is actually the 2nd bump from the left, not the high looking peak on the right (that one is about 100 feet lower than Wallaby.)